Many steam games are banned by region or country or are more costly in some countries than others.
Moreover, some countries also have restrictive censorship to prevent you from enjoying steam. Luckily, you can still access the prohibited steam by using a VPN, but the question arises " does steam allow VPN"? This post will discuss the steam account banned for VPN activation in detail.
Part 1. Can Steam Ban you from Using a VPN?
If you're worried about the" steam account banned for VPN" issue, the good news is that steam can't exclude you from using a VPN.
Although steam takes the necessary precautions to prevent people from accessing the data by using a VPN, they don't have any mechanism to stop people from using the VPN. So, if you intend to bypass a stream you can't watch using your original IP address, you can opt for using the VPN to do the same.
Q:what is Steam?
Steam is a digital distribution platform and online gaming community, developed by Valve Corporation.On Steam, users can browse a vast library of games, including popular titles from major publishers and smaller independent developers. They can also purchase and download games directly to their computer, and access a range of features such as social networking, multiplayer gaming, and user-generated content.
Part 2: When you Use a VPN, Can Steam Detect It?
Steam can use various methods to detect your VPN. It might see the blocklisted IP addresses your VPN might be using.
However, you don't need to worry, as you can use iRocketVPN to bypass steam when it bans other VPNs.
IRocketVPN uses advanced technologies such as obfuscation, which can help to conceal the fact that a user is using a VPN to access Steam. Obfuscation works by masking the VPN traffic, making it look like regular traffic and therefore more difficult to detect. Additionally, iRocketVPN has dedicated servers that are specifically optimized to evade Steam's detection systems.
Bonus Tip: How to Bypass Steam Detection When you are Using VPN?
fter using the VPN, if you're still unable to access the banned stream, the issue might be with your VPN.
Unfortunately, despite having frequently changed the regions in the VPN, if things don't get better and you're still struggling to bypass the steam ban, you can watch out for other solutions. Luckily, iRocketVPN is a good choice for you to solve some problems.
Here are some features of iRocketVPN:
Key Features of iRocket
75.000.000+
Downloads
Security : iRocketVPN uses military-grade encryption to protect your online privacy and secure your internet traffic from hackers, government agencies, and other third parties.

High-speed connections :with servers located in multiple countries around the world to provide fast and reliable access to the internet.

Ease of use : iRocketVPN offers a user-friendly interface that makes it easy to connect to the VPN and select the server location you want to use.

Customer support : It provides 24/7 customer support via email, live chat, and phone, and also offers a knowledge base and FAQs section on their website to help users troubleshoot any issues they may encounter.
How to bypass steam using iRocketVPN?
Step 1: Navigate to the official website of iRocketVPN and ensure you don't install the software from a spam website. Instead, you must visit the official website and install the software. After installing the software, you'll need to launch the software.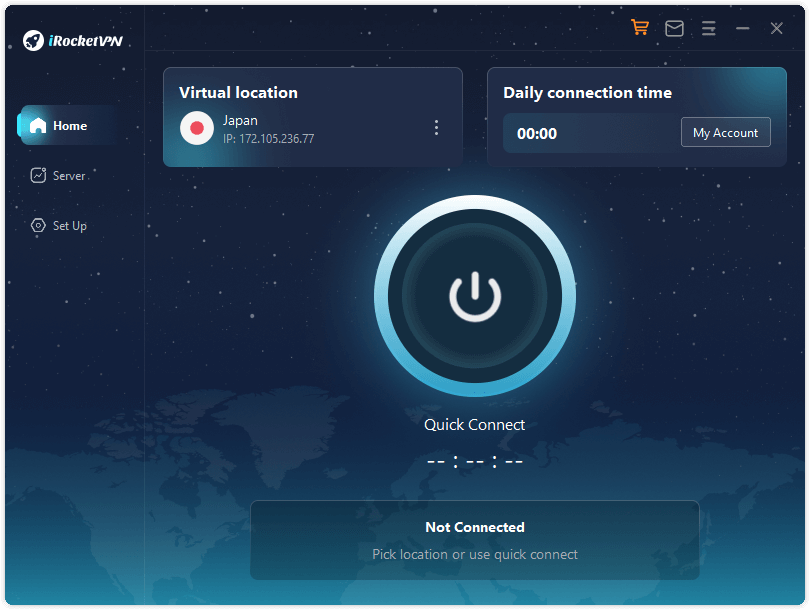 Step 2: Sign up with the iRocketVPN and then select the server and region.
Step 3: Tap on "Quick Connect" to connect the VPN to your PC. Now, you can launch the steam game and start enjoying it, as your steam won't be detected or banned because of the brilliant security of iRocketVPN.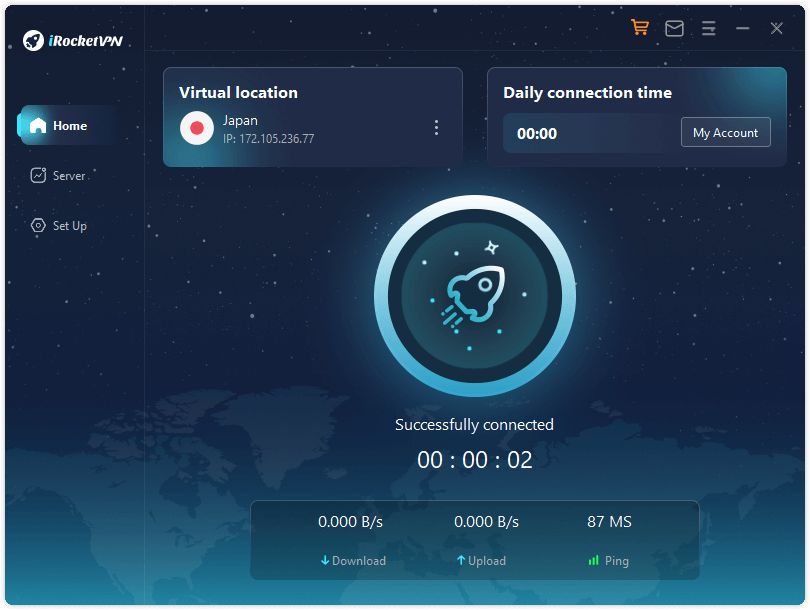 Part 4: FAQs about Steam&iRocketVPN
1

What if steam disconnects from VPN?

You can try changing the region if your steam gets disconnected from the VPN. Despite changing the region, if the issue persists, you can go for the iRocketVPN,it has a vast network of servers worldwide, providing fast and reliable connections.
2

What are the risks of the VPN being banned on steam?

Using a VPN to access Steam can be against Steam's terms of service, and if detected, it can result in a ban or suspension of your Steam account. Steam's policy prohibits the use of VPNs to circumvent geo-restrictions or access content not intended for your region. If Steam detects that you are using a VPN to access the service, it may block your account or revoke your license for the game.
3

Can I use VPN for unlimited devices?

Yes, iRocketVPN offers unlimited simultaneous connections, which means you can use it on as many devices as you want with just one account. This can be a great feature if you need to secure multiple devices with VPN protection.

So, be careful when using a VPN, as it might become the factor behind your steam account getting banned.
Conclusion
If you have the "steam account banned for VPN activation" issue, you can take notes from this post.
You can get rid of having it banned by steam despite using the VPN; you can look at iRocketVPN.
The blowing VPN might enable you to change your country or region when playing the game on steam. You can change multiple countries courtesy of the iRocketVPN