The internet has become ingrained into our society. We use it for everything from completing remote work for our bosses to shopping for the latest shoes to get us through winter vacation. However, with all that activity, we need to remember that just because it may appear our online activity is safe, that is not always the case.
Hackers and cybercriminals are always waiting around the virtual corner to pounce on our private information. They can use that to steal our identities or resell data to other criminals online. That is why it is critical to protect ourselves by learning how to setup a VPN Windows 7 solution that safeguards our private information.
Part 1. Overview of Setting Up VPN on Windows 7
A VPN, or virtual private network, is a service that provides a secure, encrypted connection between your computer or device and the broader world of the internet. Think of a VPN as a private tunnel only you can take to any destination you want without all the traffic and congestion of other users. It is the best way to ensure you get a safe journey without risking prying eyes.
When you use a VPN, your internet service provider (ISP) and other third-party trackers are unable to correctly follow your online activities. The advanced levels of encryption make it incredibly challenging for anyone to intercept and read your data. A VPN also allows you to access geo-restricted content, such as streaming services or websites unavailable in your country. That is a tangible way around censorship laws and geo-locked streaming services.
To setup VPN Windows 7, you need to follow some different steps than you would use with older operating systems like XP or more modern versions like Windows 11. While most Windows systems are relatively easy to navigate, it still helps to follow the specific steps, so you don't accidentally expose your data to online thieves.
Part 2. How to Set Up a VPN on Windows 7 with Ease
Setting up a VPN on Windows 7 may seem like a complicated process, but it's relatively simple with the right tool. Our first recommendation is to visit iRocketVPN and download this tool so you can install it on your Windows 7 system. We like this option so much because iRocketVPN is one of the most reliable and speediest VPNs on the market, with access to an ever-growing list of international servers to meet your unique needs. This is all accomplished with additional features that ensure your private information remains safe and guarded at all times.
Key Features of iRocket
75.000.000+
Downloads
You can stay anonymous because of the military-grade encryption used in iRocketVPN.

It offers a no-logs feature. Your data or browsing wouldn't be tracked or shared with any third party.

It can help you download, watch and steam at a very fast speed.

It can ensure your private information remains safe and guarded at all times.
To get started, follow these simple steps:
Step 1 Download and install iRocketVPN. Choose a server location from the list of available servers.
Step 2 Click the "Connect" button to establish a secure connection.
Once connected, all your online activities will be protected from third-party trackers, so you'll never have to worry about thieves or data tracking again.
Part 3. Alternative Methods for Setting Up VPN on Windows 7
In addition to using iRocketVPN, there are other ways we should go over how to setup a VPN Windows 7 solution. These may not offer all the bells and whistles of iRocketVPN, but do provide you with some extra protection, just in case.
1

Using the Windows Built-in VPN Client

Windows 7 has a built-in VPN client that allows you to connect to a VPN. This is because the developer of the OS has long realized people want added security when doing any kind of online activity. To set it up, follow these steps:

Step 1: Click on the Start menu and open the Control Panel.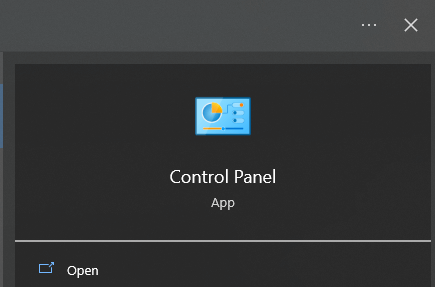 Step 2: Click on "Network and Sharing Center."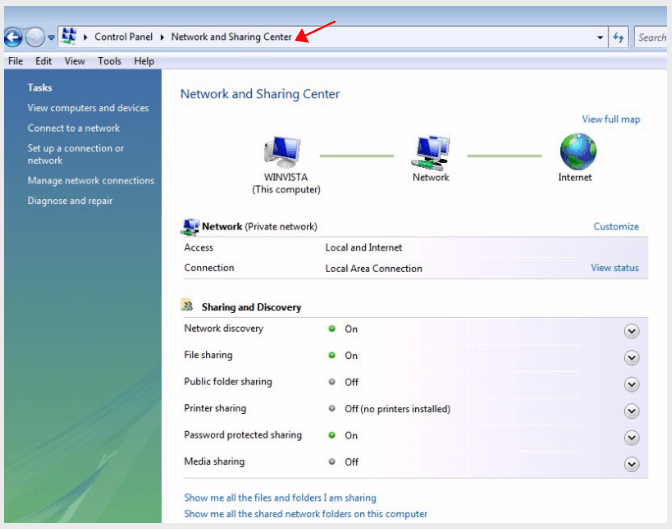 Step 3: Click "Set up a new connection or network"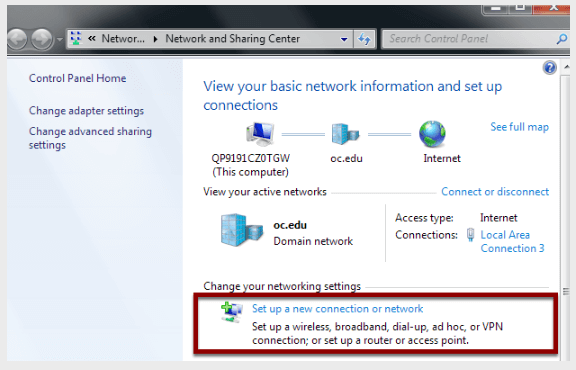 Step 4: Choose "Connect to a workplace" and click "Next"
Step 5: Enter your VPN server address and your login credentials then click "Connect" to establish a secure connection.
While this will ensure you have a new IP address that masks your current location, it is nowhere near as robust as third-party options like iRocketVPN. Not only that, but you have to manually configure it anytime you want to switch to a new international address. There isn't a "kill switch" either in case you need to quickly escape a website or streaming service. All in all, we would consider this the "beginner's VPN option."
2

Using Third-Party VPN Software

Many third-party VPN software options are available for Windows 7, each with pros and cons. Most of these options will give you an elevated level of security when learning how to setup a VPN Windows 7 solution.

Some popular options include NordVPN, ExpressVPN, iRocketVPN, and CyberGhost VPN. To set up a VPN using third-party software, follow the instructions provided by the software provider. You will need to download and install the software, enter your login credentials, and choose a server location to connect.

Be careful when you select your third-party provider. If you are using Windows 7, then you need to ensure the software is compatible. You also may want to check for additional security features like strong encryption, no-logging policies, and secure servers.

However, if you select the right one, you"ll get a range of options that will ensure your safety. Most are not going to be free like iRocketVPN or may require additional technical knowledge, which is why we suggest it so much.

Conclusion

When you want to setup VPN Windows 7, take the first step by doing some research. Learning how to safeguard your online privacy and protect your personal information from hackers and cybercriminals is critical today. Whether you use iRocketVPN, the Windows Built-in VPN client, or a third-party VPN software, it's crucial to ensure that the service offers robust security features and servers in locations that meet your needs.

If you want an excellent place to start, we highly recommend downloading the free version of iRocketVPN and learning how to best use the software. This will give you all the room to make errors and learn so you can commit to the premium version down the road when you are more familiar with using a VPN in general.