Top 4 Pokémon Go Spoofer for iOS and Android [Can't Miss]
Welcome to our comprehensive guide on the ultimate Pokémon Go spoofer tools [4 Options], designed to revolutionize your gameplay experience. If you're a passionate Pokémon Go player eager to take your game to the next level, you've come to the right place.
In this article, we will also introduce you a powerful Pokémon Go spoofer tool that prioritizes complete security and assurance. With this tool, you'll be able to explore new horizons, capture rare Pokemon, and dominate the game like never before. Read on!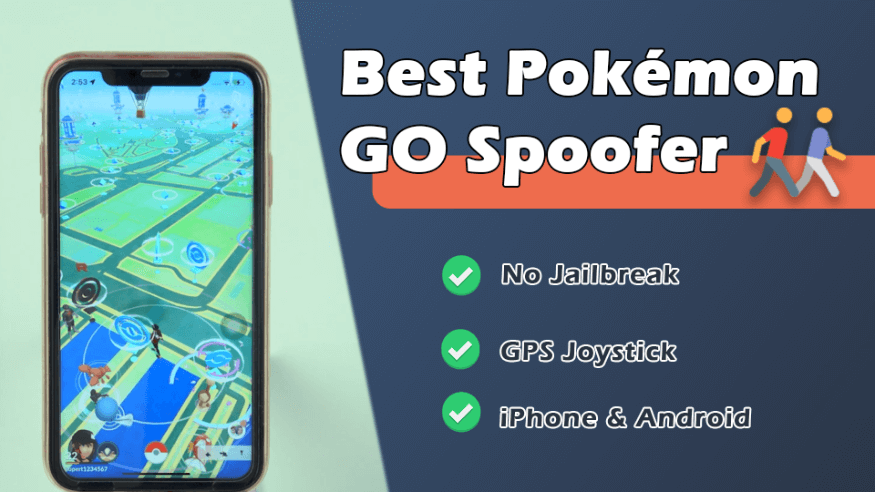 Draw customized route for your Pokémon Go trainer in 1 Click!
The Best Pokémon Go Spoofer for iOS and Android
If you're searching for the best tool to safely spoof the official Pokémon GO app on Android and iOS devices, iRocket LocSpoof is your ultimate solution. Unlike other tools that require deleting the official Pokémon GO app, LocSpoof allows you to utilize the official app downloaded from Apple Store or Google Play.
With iRocket LocSpoof , you can effortlessly modify your GPS location to any destination worldwide, all from the convenience of your own home. Take control of your virtual journey by planning a personalized route or using your keyboard as a GPS Joystick. With this functionality, you can easily gain access to Pokéstops and gyms located across the globe.
Note
When using LocSpoof, it directly spoofs the location of your iphone. LocSpoof does not interact with the Pokémon Go app in any way. Therefore, you can rest assured that you are 100% secure and safe while using the official Pokémon Go app, and there is no need to worry about being banned.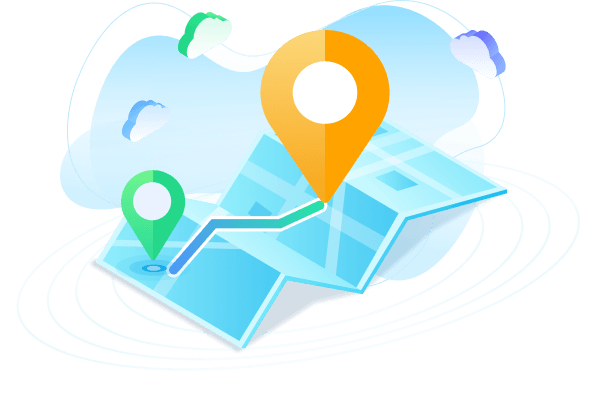 Highlights of Pokémon Go Spoofer - LocSpoof
Accurate GPS Simulation: Fake GPS for Pokemon GO trainer along customized routes.
Virtual Joystick Control: Simulate in-game movements with 360-degree control.
Secure & Undetectable: Advanced security measures ensures long-term usage.
Seamless Compatibility: Compatible with all location-based apps, including Pokémon GO, Snapchat, Find My and Bumble, for both iPhone and Android.
Global Teleportation: Teleport your GPS location to any place in the world.
Free Trial Access: Enjoy a free trial and the benefits before making a purchase.
100861 Users Downloaded
Effortless Steps to Begin Pokémon Go Spoofing with iRocket:
Step 1. Download and install LocSpoof onto your computer. Then connect your phone to your computer through a USB cable or WIFI connection as prompted.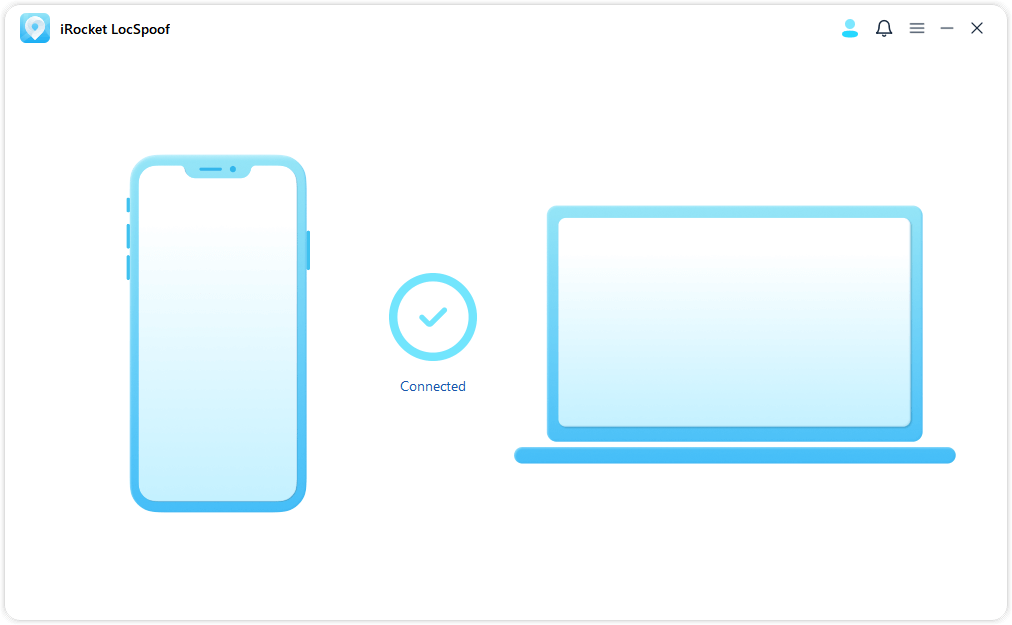 Step 2. Click on the map or enter your desired location in the search bar. Use the Move button to select the location. You can also utilize the Teleport mode to plan and move to anywhere in the world.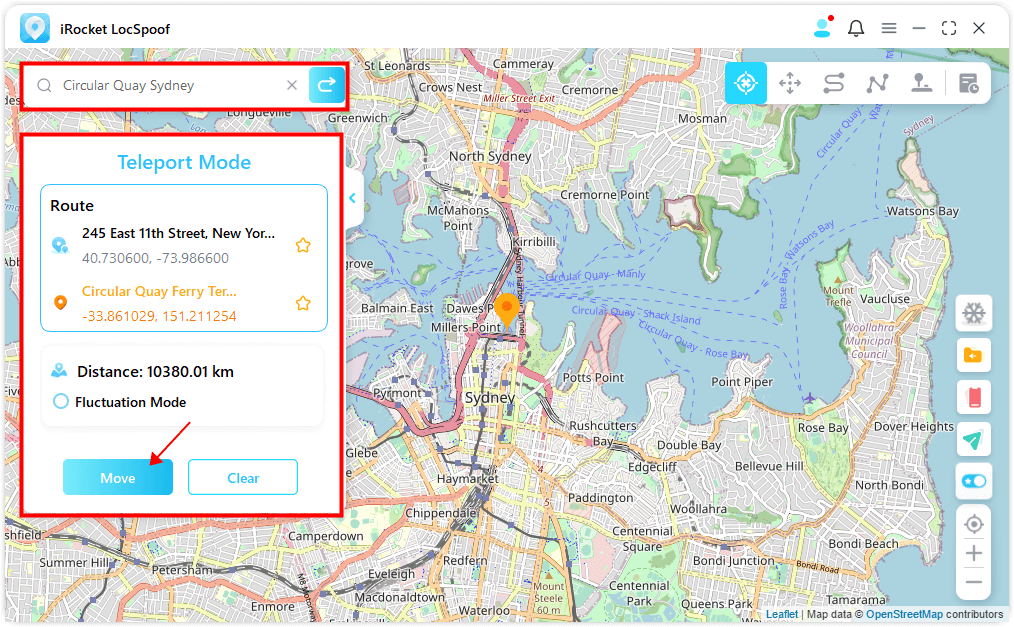 Step 3. For flexibly control your GPS with a keyboard, select the Joystick button located in the upper right corner. The GPS joystick will appear on the screen, allowing you to control your movement from that location, not your actual home.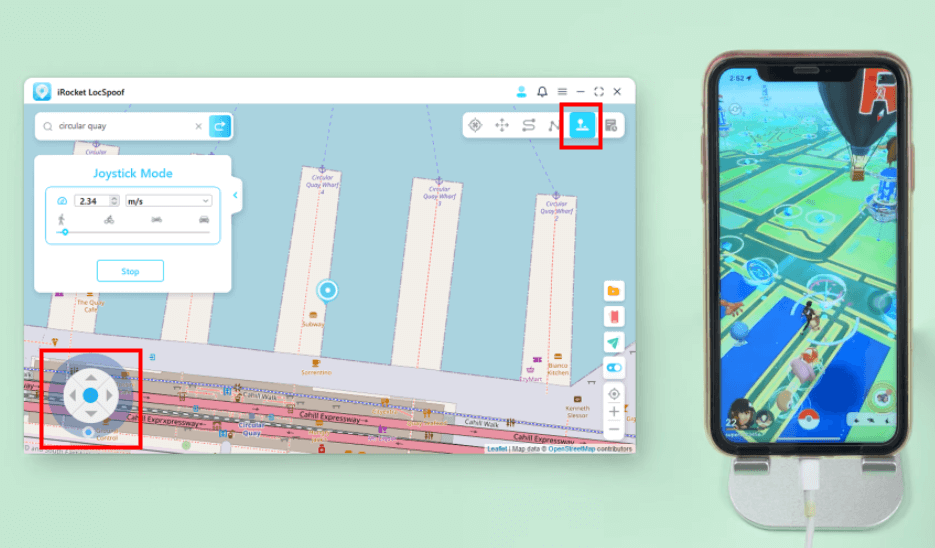 Pokémon Go Spoofer IPA - iPogo
This option is specific to iOS devices. It involves sideloading the iPogo app, which is an unofficial Pokémon GO app with built-in spoofing capabilities. This method does not require a jailbroken device.
iPogo is an app that allows users to spoof their location in Pokémon GO, providing a customized version of the game with additional features. The app enhances the original Pokémon GO experience by introducing modifications for a more enjoyable gameplay.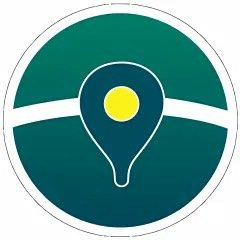 This Pokémon GO spoofer offers a separate interface that retains all the original features of the game while incorporating some tweaks. These modifications include the ability to teleport to different locations, improved throwing mechanics, automatic spinning, catching similar to the GO-Plus device, and the option to set item limits within the game.
To use the Pokémon GO Spoofing App iPogo, it is important to note that Niantic is aware of its existence, and using this app can lead to consequences such as shadow banning or permanent bans.
By r/PokemonGoSpoofing from reddit:
"As it was expected, more and more users are reporting Ban hammer notifications coming to 3rd party modified clients (iPOGO and the likes) on iOS. This was as always expected and predicted. Most users in this sub were warned of this risk."
Here is a step-by-step guide on how to use iPogo:
Step 1: Visit the Sideloadly website. Download the appropriate package (64-bit or 32-bit) compatible with your Windows or Mac OS.
Don't know where to download from? Click>>>Installation package

Step 2: Go to the iPogo website and download the IPA file. Ensure that iTunes is installed on your computer, as you will need it to connect your iPhone to your PC or laptop.
Step 3: Open Sideloadly, enter your Apple ID and password, and drag the IPA file into the Sideloadly window. Click on the Start button located at the bottom. The installation process may take a few minutes.
Step 4: Once the installation is complete, you will see the iPogo Pokémon GO logo on your phone. It will appear different from the regular Pokémon GO logo.
Step 5: The final step is to navigate to your device Settings > General > Device Management, and trust the iPogo app.
You are now ready to use iPogo, the modified version of Pokémon GO. It's important to note that iPogo is the most extensively modified version of the game, providing an enhanced gaming experience. However, it is also the riskiest option, as getting permanently banned will result in losing all progress.
Pokémon Go Spoofer APK for Android Only
For Android users, there are various APK files available that can be downloaded and installed on the device. These spoofing apps modify the GPS location data on your device to fake your location in Pokémon GO.
PGSharp is an Android apk for Pokémon GO spoofing, allowing users to easily install it and enjoy similar features as iPogo offers for iOS users. It is compatible with both rooted and unrooted devices and boasts a faster installation process compared to iPogo. By consulting the PGSharp guide, you can acquire detailed information and learn the rules for spoofing on your Android device.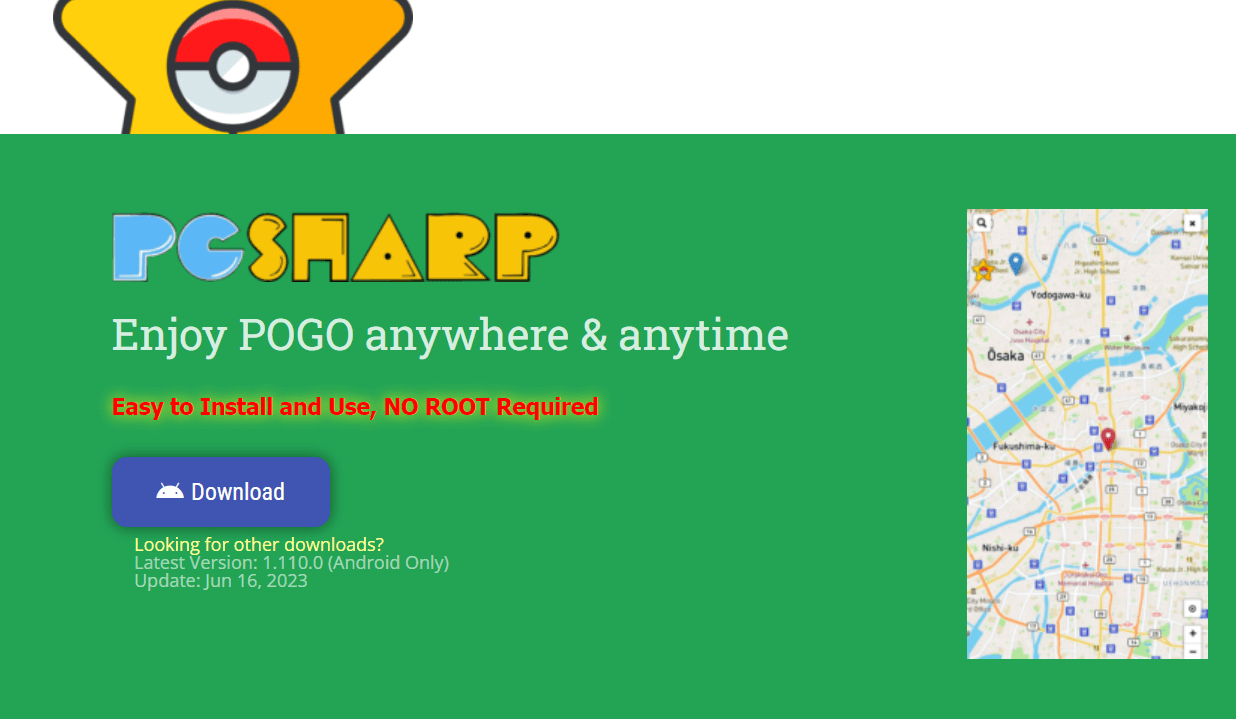 Follow these steps to get started:
Step 1: Obtain a Pokémon Trainer Club account, as it is required for installing PGSharp on your device.
Step 2: Visit the official PGSharp website and download the app onto your device.
Step 3: After the download is complete, open the file and click on the "Install" button. You will then receive a prompt to open the app.
Step 4: Create a new Pokémon GO account. We recommend against using your main account on PGSharp.
Step 5: To log in to the app, enter your Facebook account details.
There are a few drawbacks to consider when using this app. Firstly, it is only available for Android users. Additionally, engaging in location spoofing or utilizing any of the app's features can result in easy banning. The app also provides a Pokémon GO joystick, similar to iPogo. However, it may be challenging to use and occasionally unresponsive.
Note:
This app should be used responsibly and in compliance with the terms of service of Pokémon GO.
Pokémon Go Spoofer for Jailbroken iOS - Cydia
This method requires a jailbroken iOS device and involves installing spoofing tweaks from Cydia, a platform for jailbroken apps. These tweaks modify the GPS data on your device to trick Pokémon GO into thinking you are in a different location.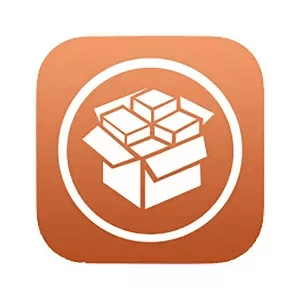 Since Cydia serves as a package manager for jailbroken iOS devices, a specific procedure must be followed to add these tweaks and make customizations to your apps. Please follow these steps:
To begin, open Cydia, and the home screen will load. At the bottom, you will find an option labeled "Source." Tap on it.
Next, locate the "Edit" button at the top-right corner of the screen and select it. Then, click on "Add" at the top-left corner.
Now, it's simply a matter of entering the source URL for the app you wish to use as a repository. Although it may sound technical, all you need to do is input the URL of the desired tweak.
Once you have entered the source URL, you are almost finished. To complete the process, reboot your device, and the tweak will take effect.
Tips for Using Pokémon Go Spoofer Safely
Here are some tips to help you use a Pokémon Go spoofer safely:
Always use a secondary account: It is recommended to use a separate account for spoofing, rather than your main Pokémon Go account. This way, if your spoofing activities result in a ban, you won't lose your progress on your main account.
Respect the game's terms of service: Be aware of the terms of service of Pokémon Go and avoid engaging in activities that are explicitly prohibited. Violating the terms of service can lead to consequences such as temporary or permanent bans.
Stay updated on detection methods: Niantic, the developer of Pokémon Go, continuously updates its detection methods to identify spoofing activities. Stay informed about the latest detection methods and adjust your spoofing practices accordingly to minimize the risk of detection.
Use reliable and up-to-date spoofing tools: Choose a reputable and frequently updated spoofing tool to reduce the risk of being detected. Outdated or unreliable tools may have higher detection rates.
Exercise caution with teleporting: If you teleport frequently between distant locations, it can raise suspicion. Mimic realistic travel patterns and avoid teleporting to distant locations in a short period of time.
Be aware of the risks: Understand that using a Pokémon Go spoofer carries inherent risks. Even with precautions, there is no guarantee of complete safety from bans or other consequences. Use spoofing tools at your own discretion.
FAQs About Pokémon Go Spoofer
1. Is it legal to use a Pokémon Go spoofer?
While it is important to note that employing a Pokémon Go spoofer may potentially violate the game's terms of service, it is worth considering the circumstances of individuals who are unable to venture outdoors due to disabilities. In such cases, as long as one respects the gameplay experience of others and adheres to the cooldown regulations, the use of a Pokémon Go spoofer may not be of significant concern.
2. Can I get banned for using a Pokémon Go spoofer?
Engaging in location spoofing while playing Pokémon Go carries a notable risk of being banned. Niantic, the company behind the game, actively monitors and takes action against accounts involved in cheating, which includes spoofing one's location. Consequences for such behavior can range from temporary suspensions to permanent bans, ultimately leading to a loss of progress and achievements.
Nevertheless, it's worth mentioning that some individuals opt for a different approach by using reliable spoofing tools like iRocket LocSpoof. When utilizing such tools and adhering to the necessary cool-down rules, one can significantly reduce the likelihood of being detected and banned. This allows players to enjoy the game without constant concern about potential penalties.
3. How can I minimize the risk of getting banned while using a Pokémon Go spoofer?
To minimize the risk of getting banned while using a Pokémon Go spoofer, consider the following:
Use a secondary account instead of your main account.
Stay updated on the game's terms of service and avoid prohibited activities.
Choose a reliable and frequently updated spoofing tool.
Mimic realistic travel patterns and avoid excessive teleporting.
Be aware that there are no foolproof methods to avoid bans entirely.
4. Can I use a Pokémon Go spoofer without jailbreaking or rooting my device?
Yes, there are options available for both jailbroken/rooted and non-jailbroken/non-rooted devices. iRocket LocSpoof is the go-to option that can be used on non-jailbroken iOS devices and non-rooted Androids, even for iOS 16 and Android 13.
Conclusion
In conclusion, changing your location in Pokémon Go opens up a world of exciting opportunities and unique Pokémon encounters. By utilizing iRocket LocSpoof and adhering to best practices for location spoofing, you can safely and effectively change your in-game location. Download iRocket LocSpoof now to unlock seamless GPS spoofing capabilities for both iPhone and Android devices.