The more schools invest in the latest technology, the harder it has become for students to work around privacy locks and geolocation issues to find websites, games, or send messages online. While the schools may think they are helping, there are plenty of online resources that can boost the educational quality and knowledge of any student.
In these types of cases, a VPN (virtual private network) goes a long way toward making the situation more manageable. The only question left is finding how to install a VPN on a school computer, so students have unrestricted access.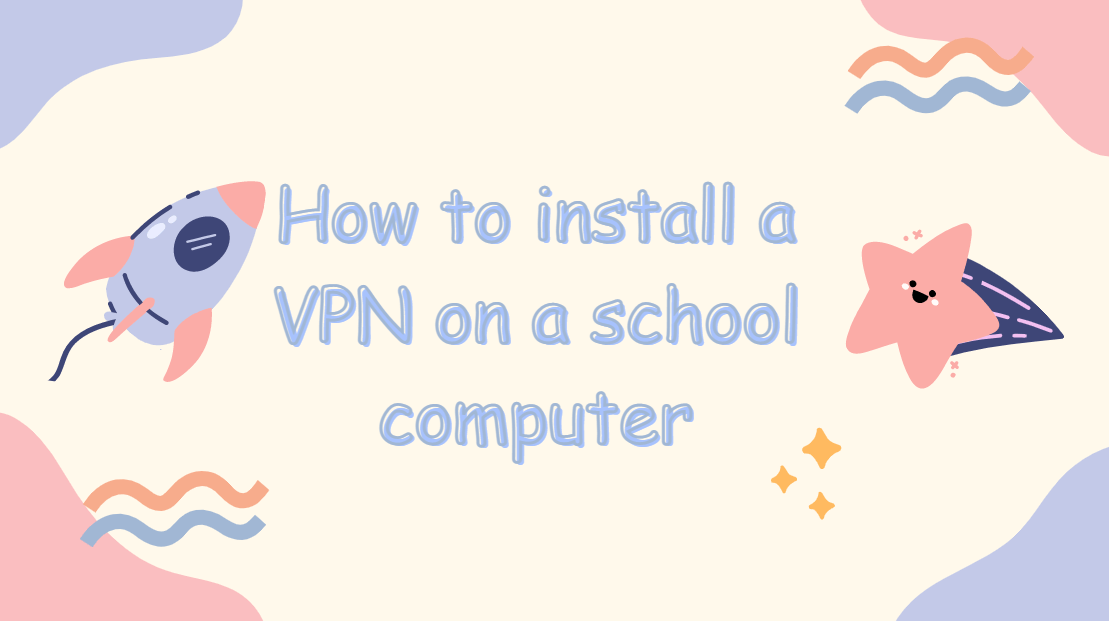 Can a VPN Be Blocked by Schools in 2023?
To first establish if a VPN will work for your school computer, you have to look at the firewall rules set in place. Most rural schools with low attendance numbers have relaxed policies or IT workers that may not understand the different port controls for blocking VPN services.
However, if you go to a city school or work with more experienced computer departments, then you are likely to see plenty of strict measures in place to prevent students from using a VPN provider. That could mean the school will know any session you establish between a given device and the VPN, but not necessarily what you are doing.
It all comes down to whether or not your school has set up firewall rules.
How to Install a VPN on a School Computer
In those rare instances your school has correctly set up firewall protection, you will need to do some research and try out tips to get around this situation, even with a decent VPN. Some of the tricks you can try include:
1

Differentiate Your VPN Protocols

There are specific VPN protocols that are easier to work with than others because they are harder to block. If you are using a VPN you expect to be blocked (like PPTP or L2TP), you may want to switch to a different protocol like OpenVPN or IKEv2. Wireguard and SoftEther are also good options as they were developed by university projects and operate on OS-compatible systems like Linux to override protocols.
2

Swap Your Port

Any quality network administrator is going to know the default port settings of the most popular VPN services. That means even if they cannot see the specific web traffic you are enjoying, they can see that you are connected via a VPN and shut down that open port. Instead, try shifting your port to something new, like 80 or port 53.
3

Change Servers

Of course, most IT departments will see that you are trying to connect via an IP located in an international location. A lot of VPN servers are based in different countries, and students may try to use those, thinking they are more reliable than something closer. It takes little effort to change the server you are using in your VPN dashboard and then try reconnecting again.
4

Use Another Device

Don't like that you have to learn how to install a VPN on a school computer? The simplest solution is to switch to a mobile phone, tablet, or another computer. These may or may not be connected to your school's network and altogether remove the issue of a VPN in the first place.
5

Look for a Different Network

Worse comes to worse; use your VPN on a different network. If the school WiFi is too secure, try jumping on the staff WiFi or a local coffee shop where the VPN will work especially well with only minor lag. Even better, if you can get a personal hotspot, you'll be in much better shape.
What VPN Works on School Computers?
If you are trying to learn how to install a VPN on a school computer
| iRocketVPN | NordVPN | Surfshark | ExpressVPN |
| --- | --- | --- | --- |
| $9.99/month for monthly plan | $12.95/month for standard plan | $12.95/month for monthly plan | $12.95/month for monthly plan |
| $19.99/quarter for quarterly plan | $13.99/month for Plus plan | $3.99/month for annual plan | $9.99/month for 6-month plan |
| $59.99/year for annual plan | $15.49/month for Complete plan | $2.39/month for 2 year plan | $6.67/month for annual plan |
| $195.95 for Lifetime Use | Additional pricing for 1yr or 2yr plans | | |
| 30-day money back guarantee | 30-day money back guarantee | 30-day money back guarantee | 30-day money back guarantee |
| Numerous servers in 40+ countries | 5,000+ servers in 60+ countries | 3,200+ servers in 100+ countries | 3,000+ servers in 94+ countries |
| Allows streaming | Allows streaming | Allows streaming | Allows streaming |
In addition to this list, iRocketVPN is a 1-click setup with a 30-day free trial option. That makes it quick and easy for students who may not have a lot of experience with VPN servers and need a helping hand to get started.
FAQs on VPNs for School
1

Will my school know if I use a VPN?

This has more to do with the type of protocol your VPN is using. Some VPNs have standard protocols without obfuscation that will allow your school's IT department or administration to see that you are connected via a VPN, but not necessarily what you are browsing. That is why working with a quality VPN using versatile protocols is best.
2

Does a VPN hide search history from schools?

Absolutely! A significant function of a VPN service is to prevent anyone from seeing what it is you are looking at online. Therefore, you want a VPN with quality encryption to mask your online traffic and hide your search history.
3

Can my school track my IP address?

This is the beauty of a VPN. Typically, a VPN sends your IP to a different virtual location. Even if the school can track where that is, it most likely is not in your relative physical location.
4

Can my school see what I do online?

Yes, without a VPN, your school can easily see what you do online, where you visit, and even who you are messaging. With a VPN, you are hiding that online activity as it is encrypted and completely hidden from your school's network admins.
Conclusion
Learning how to install a VPN on a school computer has more to do with the quality of the VPN you use than the details of actually downloading, installing, and configuring the VPN service.
That is why we highly recommend you try out iRocketVPN as your VPN provider. With a 30-day free trial, money-back guarantee, and easy 1-click setup, you'll quickly find how robust a premium VPN can be to your privacy on your school's network.