What to Do When You are Unable to Connect to World Minecraft?
Are you ready to experience an exciting gaming journey in Minecraft? From building incredible structures and worlds, to engaging with endearing characters, there's something for everyone! However, sometimes you may be unable to connect to a Minecraft world.
In this blog post, we'll discuss what you can do if you are unable to connect to Minecraft, including making sure your connection is stable, ensuring that your game version and server version match up, resolving IP address issues, adjusting firewalls and network settings, and reinstalling or resetting your game client. You will also learn how to troubleshoot other common problems related to connecting to a Minecraft world.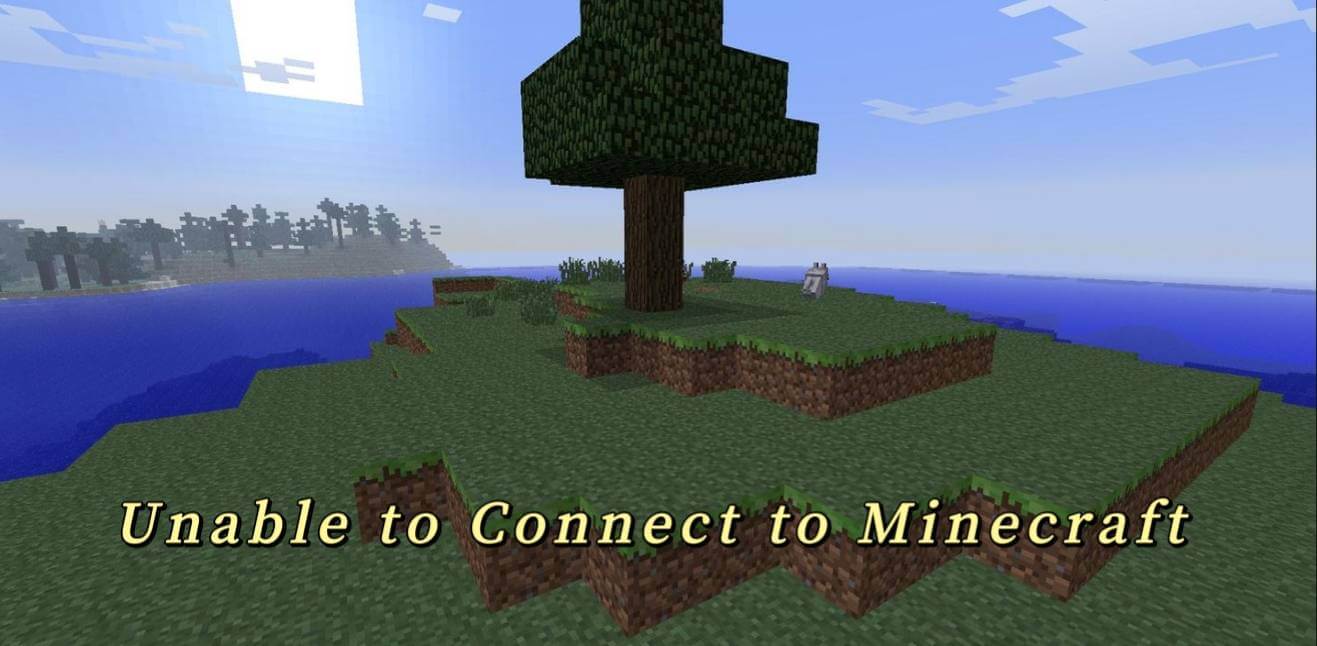 Part 1. Why does Minecraft say unable to connect to world Minecraft?
The following are some of the reasons for not connecting to the world of Minecraft;
Internet Connection Issues: A weak or unstable internet connection can cause issues when connecting to the Minecraft world.

Version mismatch: The game version and server version must match for you to successfully connect to a Minecraft world.

IP Address Issues: If your IP address has been blocked by a server or firewall, you cannot connect to that world in Minecraft.

Firewall settings: Firewalls or other network security settings may also block access to certain ports or networks, preventing players from connecting to the world in Minecraft.

Outdated Cache Files & Corrupted Game Data: Outdated cache files can prevent successful access, while corrupted game data can cause errors when logging into a world in Minecraft.

Corrupted programs: Finally, corrupted programs can interfere with a successful connection attempt as well; these include anti-virus software and other third-party programs that might interfere with communication between clients and servers online.
Part 2. Troubleshoot unable to connect to the world in Minecraft issue
Are you having trouble connecting to Minecraft? If so, here is a guide to troubleshoot the issue.
1

Update the game - Minecraft

No matter what version of Minecraft you're playing–Java Edition, PE, Bedrock, PS4, Xbox One or Mobile–it's key to make sure the latest updates have been installed on the version of

Minecraft you're playing. Some software updates add a new feature to the system, but many of them are just intended to improve the performance and security of the system. The connection error can be fixed by installing any updates and checking if this has fixed the problem.

To ensure a smooth and enjoyable gaming experience, check that all players are running the same game version. This will ensure a smooth and enjoyable gaming experience for all players involved.
2

Re-add your friend

Re-adding your friends to Minecraft is essential for playing together. It helps ensure that the game you all use is the same and reduces compatibility issues. Make sure that before joining a session, everyone has installed the same edition of the game.
To do this
Step 1. Open the game and start a single-player campaign.
Step 2. Type /friends into the chat box. You will see a list of your friends.
Step 3. To remove a friend, you need to find his or her name.
Step 4. Hit Enter to remove the player name with /friend remove.
Step 5. You will be taken back to the game's home screen.
Step 6. Play the game without loading a world.
Step 7. You can access the Friends tab by clicking the World's tab.
Step 8. Click on add friend. You can add them back using their Gamertag.
The best thing to do is to first join your friends' worlds. You can re-add your friend if you can join other worlds. The next step is to move on if you are unable to join any worlds.
3

Save your friends as "good friends"

The easiest way to keep track of who's playing with you is to save your friends as "good friends" in Minecraft. Besides reducing the chances of compatibility issues when joining the same game session, this will also help ensure that the game runs smoothly.

The multiplayer session can only be accessed by your good friends once saved, ensuring that only the people you invite can join. Create awesome memories with your online friends now, no matter where you are!
4

Sign in and out and rejoin the world

If you sign out of your account and then sign back in, the problem might be fixed.
In order to do so
Step 1. Log out of your account by going to your profile.
Step 2. Using the same account details, you can sign in again once you sign out.
Step 3. You can then click "Join" to join the world of your choice.
Step 4. To find out if the problem has disappeared, you can reload the game and try again.
Step 5. The server is now up and running, so you can begin playing with all your friends!
5

Reload your private world

It has been reported that some players can reconnect to their friends' worlds after reloading their private worlds. There are some users on all platforms who are able to use it.
In order to do so:
Step 1. Activate Minecraft.
Step 2. Then click Play.
Step 3. Select one of your Worlds from the Worlds tab.
Step 4. Save & Quit can be accessed from the menu.
Step 5. Click the Friends tab on the main menu.
Step 6. Your friends' worlds should be accessible to you.
6

Test & Improve Connection

Minecraft is a fun and interactive game that can be enjoyed with friends no matter where they are located. To get the most out of your online gaming experience, it's imperative to have a strong network connection. Using a VPN helps provide a secure connection even across long distances and prevents interruptions due to slow or unstable connections.

It's recommended to use iRocketVPN if you don't have a VPN yet.

Using iRocketVPN allows anonymity when playing online and protects you from unwanted attacks from malicious players. With its easy-to-use control panel, iRocketVPN is the perfect tool for gamers who want a smooth and enjoyable gaming experience.

Step 1. You will need to download iRocketVPN on your device in order to use it.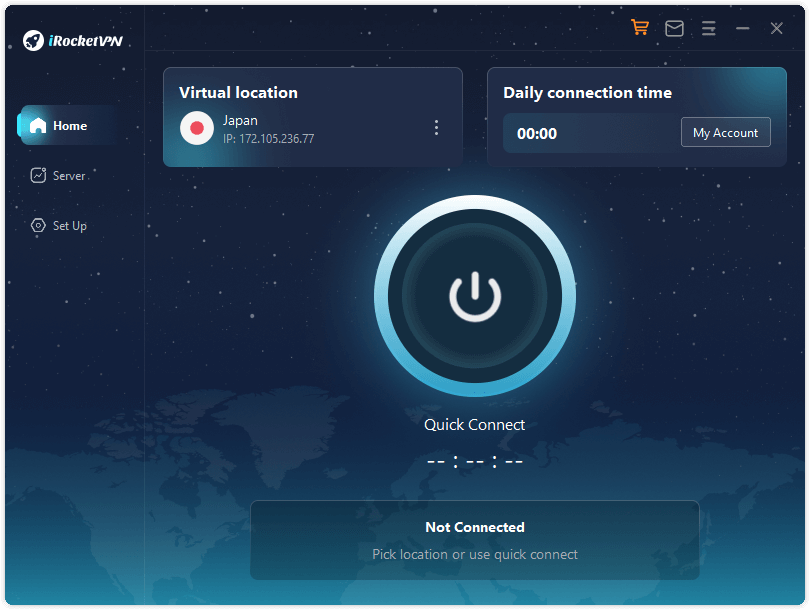 Step 2. Open iRocketVPN and run it on your computer.
Step 3. You can connect to a server located in a location of your choice.
Part 3. Bonus Tips for Minecraft different versions
All central consoles and mobile devices support Minecraft games. The iPhone and iPad let you play Minecraft with a controller. Minecraft ray-tracing might be even more fun if you have the latest graphics card and stick with a PC.
For iPad users: If you're an iPad user and you're having issues connecting to the world, you can take a look at your iPad settings, Minecraft (not in the Minecraft app) and make sure that you can access the "Local Network". Hopefully, once you enter Minecraft again, you will be able to solve the problem.
For Xbox users: Ensure that the Xbox One NAT is open on your computer. If you are having problems with your Microsoft account, you can try switching to another one.
Conclusion
When you are unable to connect to a world in Minecraft, it is imperative to take the necessary steps and troubleshooting precautions. This will ensure a successful connection. Start by logging into the same Microsoft account for all players, and make sure everyone is on the same game version. To further protect your progress, consider backing up your worlds periodically. Additionally, test and improve internet connection and to do this use VPN.
We recommend iRocketVPN as a reliable, secure and fast VPN service for Minecraft players. It provides strong encryption and unlimited bandwidth, allowing players to hide their IP address, protect their privacy and access different servers worldwide.