From government censorship to finding the streaming videos of your choice, using a VPN (virtual private network) is essential in today's digital age. While privacy and data security are always at the top of the mind of most users, using a quality made VPN service allows you to set up barriers against potential threats.
That is why we wanted to take a closer look at one of the more frequently mentioned encryption protocol apps currently on the market – Shadowsocks.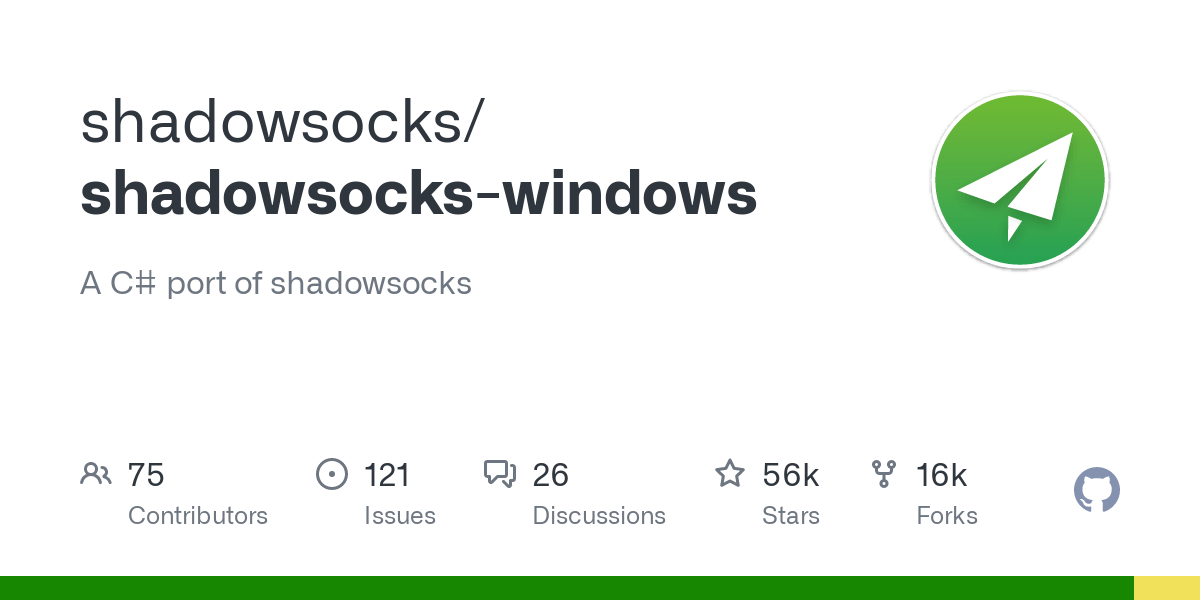 Part 1. What is Shadowsocks?
You may already know that Shadowrocket is a popular application that is designed to provide secure and private internet browsing experience for iOS devices. As for windows operating systems, the similar app is Shadowsocks. It is a popular proxy tool that enables users to access the internet securely and anonymously by routing their internet traffic through a remote server.
The app creates a secure tunnel between the computer you are using and the various online services, websites, messaging apps, and other internet-connected activities you are engaging in.
Note that Shadowsocks and Shadowrocket both are not VPN itself. The goal of a proxy tool is to help connect your devices through proxy servers and it supports a stronger security environment by improving VPN protocols. The app captures HTTP traffic you are browsing on your device and redirects it to VPN proxy servers.
Using this type of encryption tool allows you to get access to VPN service offered by third-party. Depending on the VPN service you paid, then you can get around restricted content if your government is censoring access to various resources or get a big help in gaming, streaming, and more.
Features
Automatically set system proxy.
SIP002 URL scheme.
SIP003 plugins.
SIP008 online configuration delivery.
Pros
Multiple Platforms: Shadowsocks is available on multiple platforms, including Windows, macOS, Linux, iOS, and Android, making it accessible to a wider range of users.

Open Source: Shadowsocks is an open-source software, which means that its source code is freely available to the public, making it transparent and potentially more secure.

Customizable Settings: Shadowsocks allows users to customize their proxy settings, including server locations and protocols, providing greater flexibility and control over their internet browsing experience.
Part 2. The Limitations of Shadowsocks/Shadowrocket forWindows
Shadowsocks for PC is not a VPN service itself. The goal of Shadowsocks  is to connect you with a VPN server. This is an open-source proxy/protocol software designed to help you get around firewalls, censorship, restrictions, geo-locked data, and more. It is not meant to be a fully secure VPN provider that you would get from other, more reputable providers.
Cons
Complex Setup: Setting up Shadowsocks can be complicated for non-technical users, especially when configuring the server and the client software.

Reliance on Third-Party Servers: To use Shadowsocks, users must rely on third-party servers, which can be a security risk if the server is compromised or controlled by malicious actors.

Limited Availability: While Shadowsocks is becoming increasingly popular, it is still not widely available in all countries, and it may be difficult to find reliable servers in some regions.
Overall, Shadowsocks is a powerful tool for bypassing internet censorship. However, it is important to be aware of its potential drawbacks and to use it responsibly.
Part 3. How to Download Shadowsocks for Windows [Step-by-Step Guide]
Luckily, downloading Shadowsocks for Windows is a straightforward process. That allows you to test out if you will like the service or not instead of having to mess with a more complex solution that takes a lot of time.
There are two methods that may work well for your PC. Shadowsocks was originally built for Windows and can be installed and used:
1

DIRECT WINDOWS INSTALLATION

Step 1: Download the original Shadowsocks for Windows packet from a repository on GitHub.
Step 2: Extract and run the executive file: Shadowsocks.exe. Follow the on-screen instructions to finish the installation.
Step 3: Configure the server and then connect to the VPN server.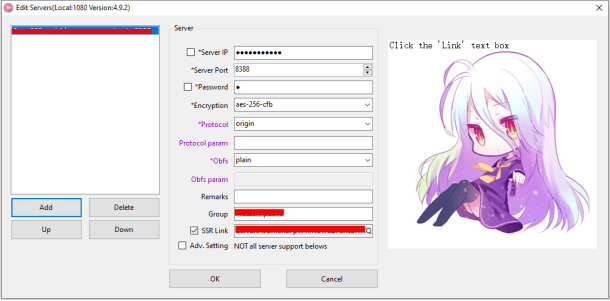 Note that: To use Shadowsocks, users must rely on third-party servers that require purchase. It can also be a security risk if the server is compromised or controlled by malicious actors. 
2

ANDROID EMULATOR INSTALLATION

Step 1: Download an Android emulator for your PC by installing Bluestacks or the Nox App. Bluestacks has more online resources to help you on your way, so we suggest that emulator.

Step 2: Install the emulator on your PC by opening the exe file you downloaded, accepting the license agreement, and following the rest of the on-screen prompts.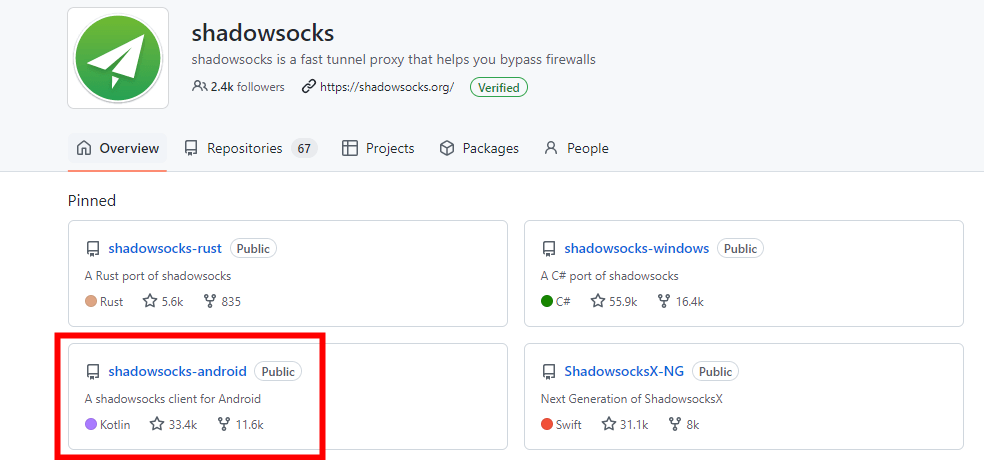 Step 3: Open the emulator and go to the Shadowsocks website mentioned above.
Step 4: Download the Shadowsocks for Android app, then click on "All apps" to open the installed application.
Step 5: Once you're inside Shadowsocks, you need to find a server that supports your protocols. Then you "Add server," and you should be protected.
Part 4. How to Set Up VPN With 1-Click on Windows
The main challenge with using the Shadowsocks PC application for your PC is that it requires a setting up additional VPN services by important configuration files that often have to be purchased at additional fees. Instead of having an all-inclusive VPN service provider, you are utilizing two applications for the same thing you can get from a more comprehensive solution.
A much simpler solution is to download and utilize iRocketVPN. This is a highly secured VPN service that can be used with one click of your mouse and doesn't require an emulator. With numerous international services and a robust encryption service, this is your answer to safely and securely exploring the online world.
Key Features of iRocket
75.000.000+
Downloads
you get access to a military-grade system that gives you enhanced online anonymity.

It has a strict no-logs policy, meaning you won't get your private data shared with their-party services.

There is a free trial to using iRocketVPN so you can test out the easy-to-use interface. 
Here's a step-by-step guide using iRocketVPN:
Step 1. Download and install iRocketVPN onto your computer. Once the installation is complete, simply click the "Quick Connect" button to easily connect to the default recommended server.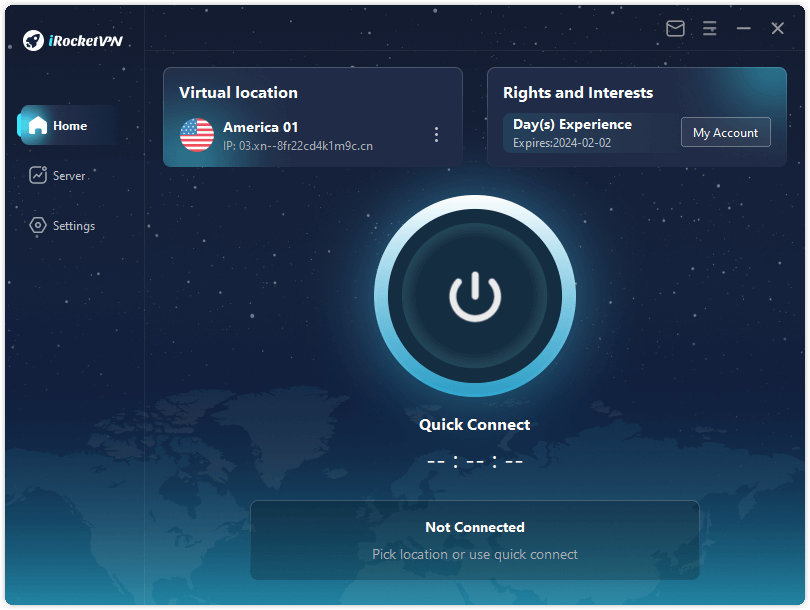 Note: Choose a specific server location by switching to the "Server" tab.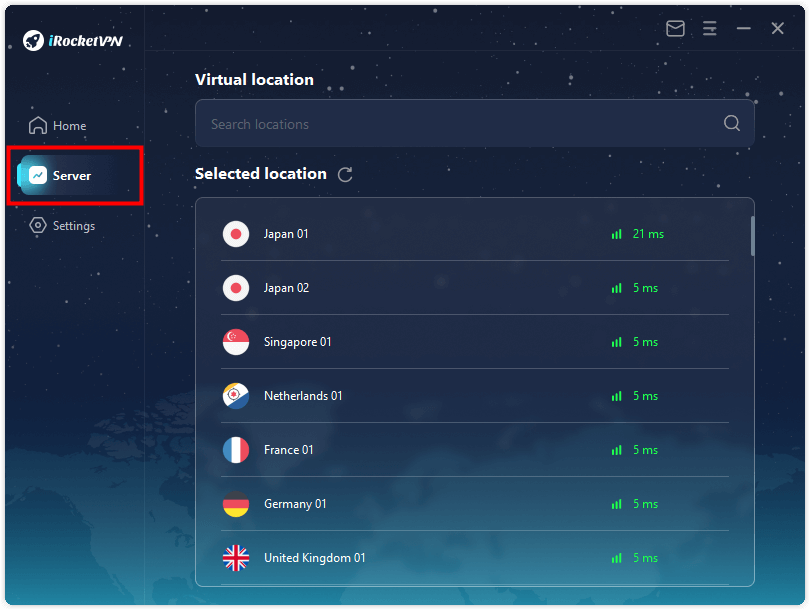 Step 2. Select a server location you desired, such as the United States. Connect to the chosen server using the VPN software.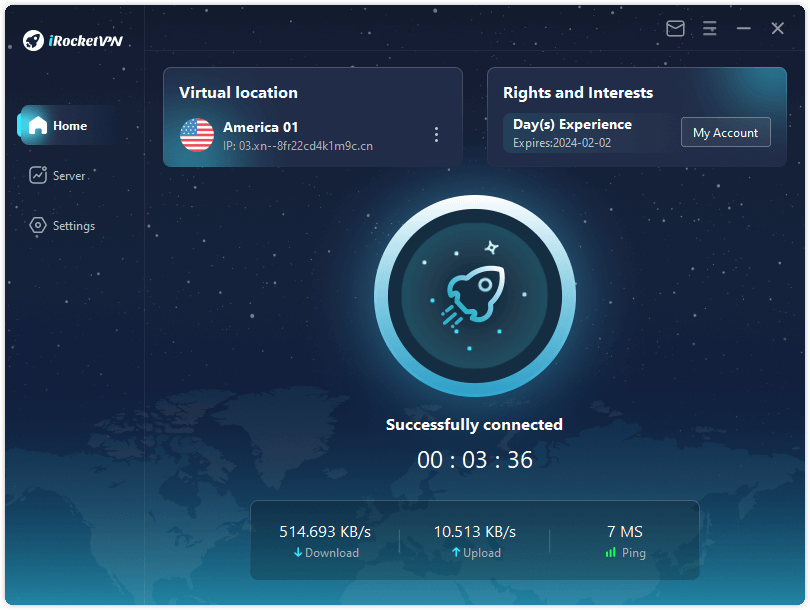 Now, you can verify your your IP address online to ensure that it reflects the server location you've chosen. Check you IP on iRocketVPN official page>>>

Part 5. What is the difference between shadowsocks and shadowrocket?
Shadowsocks and Shadowrocket are both software applications used for the same purpose, which is to bypass internet censorship and access the internet securely. However, there are some differences between the two:
Platform: Shadowsocks is an open-source proxy server software that can be run on different platforms such as Windows, macOS, Linux, iOS, and Android. Shadowrocket, on the other hand, is a commercial app that is available only on iOS.
User Interface: Shadowsocks is typically used with a graphical user interface that allows users to easily configure and manage the proxy server. Shadowrocket, on the other hand, has a more streamlined user interface that is designed for ease of use and simplicity.
Features: While both Shadowsocks and Shadowrocket offer similar functionality, Shadowrocket has some additional features that are not present in Shadowsocks. For example, it has a built-in ad-blocker and can be configured to automatically connect to the proxy server when the device is connected to specific networks.
Pricing: Shadowsocks is an open-source software and is available for free. Shadowrocket, on the other hand, is a commercial app that requires a one-time payment to download and use.
In summary, while Shadowsocks and Shadowrocket share similar functionality, both of them needs complicated setup steps and extra configuation to work as a VPN.
Part 6. FAQs on Shadowsocks for Windows
1

Is Shadowsocks for PC free to use?

Yes, the original package for Shadowsocks is free to download, but if you want to make use of VPN services to connect to, you will need to purchase them from a third-party company.
2

Can I use Shadowsocks for PC to bypass geo-restrictions?

Yes, but that is based on the third-party VPN services you configure Shadowsocks for PC to use. By itself, Shadowsocks is not a VPN provider. It relies on the third-party service you use to get around geo-locked content.
3

Is Shadowsocks for PC secure?

No. The problem is that Shadowsocks is open-source software, meaning data and logs may be recorded and accessible to third-parties. That can cause massive security concerns compared to more reliable solutions like iRocketVPN.
Conclusion
Shadowsocks for PC is a powerful tool for anyone looking to connect to a VPN server. While it has a few limitations, it offers a range of benefits that make it a reasonable choice for users who need a quick and cheap fix to get a little bit more online security.
However, if you're looking for an easy-to-use VPN service with military-grade online anonymity protocols, we highly recommend giving iRocketVPN a try. With its simple interface and a free trial, downlaod and get started today!