Easily Secure Your Internet Experience with a Free VPN Extension
In today's age of digital technology, having a secure and anonymous internet experience is essential. A free VPN extension can help you achieve this goal, enabling you to browse the web safely and without worry. With a VPN extension installed on your browser or device, you're protected from malicious hackers and intruders who might be trying to track your activity or steal data from your computer.
In this article, we'll explore the benefits of using a free VPN extension and discuss 5 best free options available on the market. We'll also touch upon some of the risks associated with using these extensions so that you can make an informed decision about which VPN option works best for you.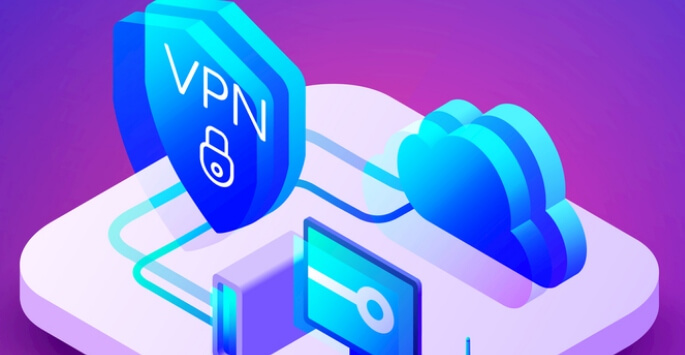 Part 1. What Can Free VPN extensions Help and How Do They Work?
Installing a VPN extension on your web browser provides an extra layer of security and privacy while browsing the internet. The VPN will encrypt your data and route it through a server located in another country, making it difficult for third parties to monitor your activity or access your information. Additionally, it can also mask your IP address, so that you appear to be in a different location than you actually are. With a VPN extension, you can feel more secure when accessing the internet and protect yourself from potential threats.
They are easy to set up and offer a high level of encryption to keep your data safe from eavesdroppers. Below mentioned are some reasons why should you use it;
Increased Privacy - Free VPN extensions can help to protect your online privacy by encrypting and anonymizing your web activity.

Improved Security - Most free VPNs offer additional protection, such as malware protection and malicious site detection.

Faster Browsing - By routing your traffic through a secure tunnel, you can often experience faster browsing speeds than without the extension.

Faster Browsing - Access Blocked Content - Free VPNs are also useful for accessing region-locked content from around the world.
Additionally, free VPN extensions are available for many popular web browsers such as Chrome, Firefox, Safari and Edge so that you can stay protected wherever you go.
Part 2. What are the best free VPN extensions? [5 options]
Choosing the right VPN for your Chrome web browser can be a daunting task, so to help you out we've tested many services and compiled a list of the top 5 free VPNs for Chrome. We've ranked these choices based on their available resources, features, servers and more, so you can make an informed decision.
1

1ClickVPN

1ClickVPN is an excellent choice if you're looking for a free, secure and reliable VPN extension for Chrome. With its top-notch security features, this Chrome extension prevents unwanted data tracking and snooping from third-party sites. You can also access any content blocked in your region.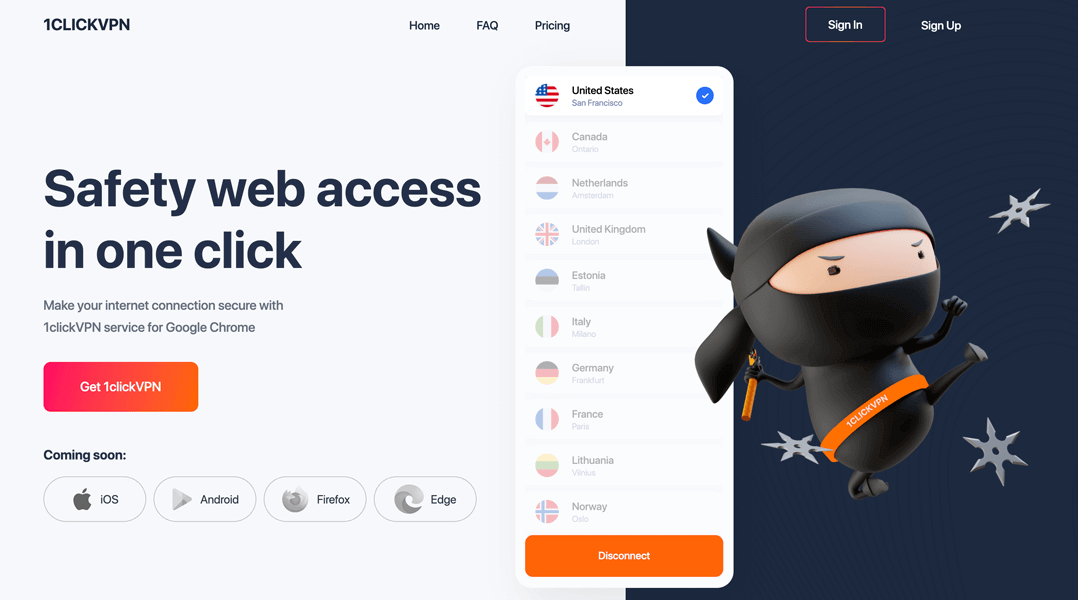 Features
There is no registration required and it is free to use.
The one-click activation makes it simple to use.
A premium security solution that protects against hackers.
Bypasses network limitations and accesses restricted content.
Hides IP addresses securely and privately.
Streamlined internet access with unlimited bandwidth.
Step By Step Guide to Installing it
Step 1. By using 1click VPN, you can quickly and easily set up a VPN for Chrome.
Step 2. From the website or Chrome Webstore, download the VPN extension for Chrome and turn it on in the browser settings.
Step 3. Once 1click VPN for Chrome has been launched, you are welcome to register.
Step 4. Choosing the right VPN server is the last step to securing your surfing.
2

Hotspot Shield Chrome

Another free VPN Chrome extension to consider is Hotspot Shield. This service offers unlimited data and time, so you can be sure of no interruptions while using the VPN. With its free version, you can select from servers located in Germany, Russia, Canada, or the Netherlands. For more features, you can opt for the premium subscription which gives you access to servers in India, Singapore, the UK, France and the US.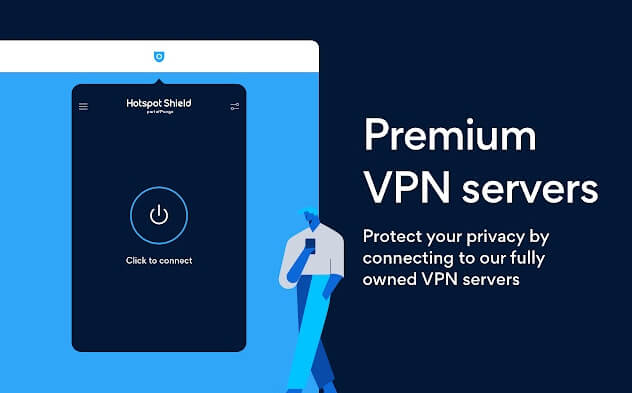 Features
There is no subscription fee and unlimited access is provided.
Regional servers allow you to virtually relocate anywhere in the world.
Anonymity and extra data protection are provided by the Chrome version.
Your data isn't collected when you use Smart Filter.
Step By Step Guide to Installing it
Step 1. Install the Hotspot Shield VPN chrome extension on your PC
Step 2. You can choose where you want to connect to a VPN server
Step 3. Click "Connect" in the Hotspot Shield app
Step 4. You can enjoy your favorite content without worrying
3

ZenMate VPN

With ZenMate VPN installed, you can rest assured that your identity and data are safe and secure. It provides strong encryption so that no one can see your activity, allowing you to browse the web anonymously. Furthermore, it does not throttle or reduce your speed bandwidths like many other free VPNs.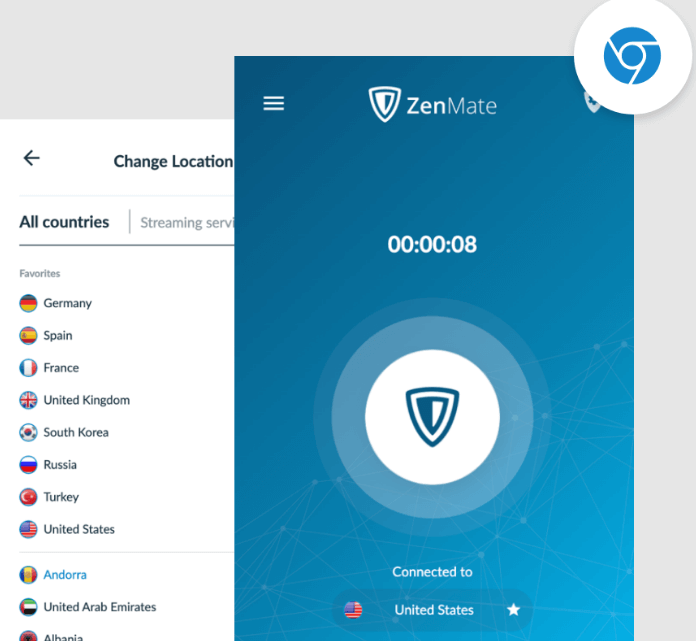 Features
The streaming section has its own dedicated section
Connection to a high-speed network
The setup process is extremely simple
There are no logs maintained
Step By Step Guide to Installing it
Step 1. Install the ZenMate VPN extension from the Chrome Store in order to use ZenMate VPN on Google Chrome.
Step 2. Your account must be created and verified.
Step 3. In the search bar, you will see the ZenMate icon.
Step 4. On the pop-up window, click on it and you will see a toggle for turning ZenMate on in the lower left corner.
4

NordVPN

NordVPN is an ideal free VPN for Chrome users. It comes with a 7-day free trial for Android and 30-day money-back guarantee so you can try it before committing to it. Its lightweight Chrome browser extension also allows you to protect your browser traffic from malicious threats without having to install a full app.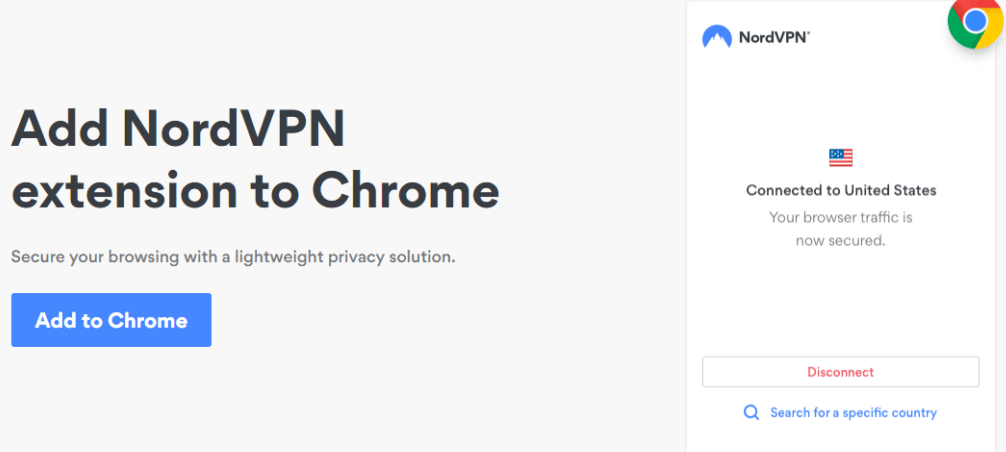 Features
Protection against leaks and encryption of military grade
Content that has been blocked in your region can be accessed
The option of choosing the location of the server
Anti-adware and anti-malware software
CyberSec, which alerts you to websites that may be harmful or suspicious
Using split tunneling to bypass VPN connections for specific types of traffic
Step By Step Guide to Installing it
Step 1. VPN Chrome extensions can be downloaded from their website or from the Google Chrome Web Store.
Step 2. The Add to Chrome button should be clicked.
Step 3. You may be asked to add the extension by Chrome. Click on the Add extension button.
Step 4. Your NordVPN account will then be notified that the extension has been successfully added.
Step 5. In the top right corner of the browser, you will see the NordVPN logo after the installation has been completed.
5

Hola VPN Extension

Hola VPN is a free Chrome extension that provides users with the ability to access restricted websites and content. It's well known for having a friendly user-interface, as well as fast speeds. However, its use of peer-to-peer technology has raised concerns over users' online privacy. Additionally, there have been some reports of instability and poor connection performance.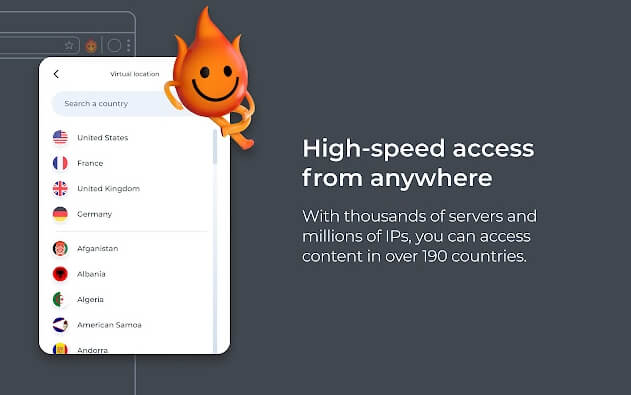 Features
Using the application is easy due to the user-friendly interface
Streaming and browsing are both available at fast speeds
Websites and content that have been blocked can be accessed
Step By Step Guide to Installing it
Step 1. Open Google Chrome on your Cloud Computer.
Step 2. You can install the Hola VPN Chrome extension by copying the link below and clicking the Add to Chrome button.
Step 3. The Hola VPN extension can be installed by clicking Add extension.
Step 4. Once the extension has been added successfully, you will receive a confirmation message.
Part 3. What to do if Free VPN extensions don't work well? Try iRocketVPN Window for Free
If you're looking for a reliable and secure VPN service and your free extensions are not meeting your needs, consider trying iRocketVPN Windows. With just one click of a button, you can easily connect to their servers located in more than 40 countries.
iRocketVPN not only offers you an easy connection but also provides exceptional protection and speed for downloads and streaming. Plus, they have excellent customer support available through live chat as well as a money-back guarantee if you're unsatisfied with their service.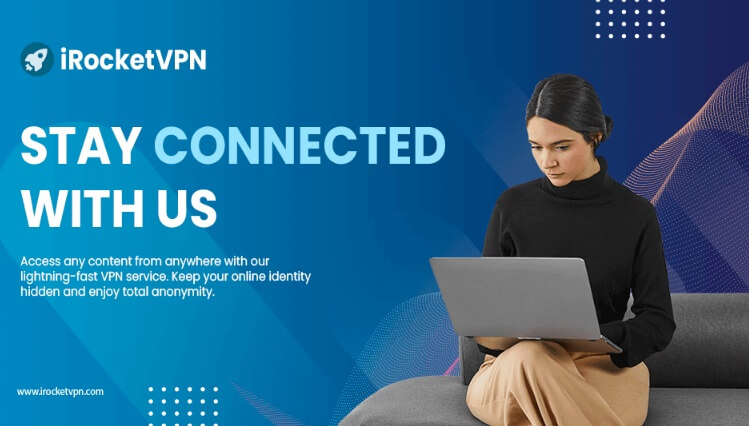 So if your free VPN is failing to deliver the performance you need, give iRocketVPN Windows a try today! Take advantage of their free trial and start browsing securely without any worries.
Step-by-Step Guide to Use iRocketVPN
Getting connected to a secure server with iRocketVPN is straightforward:
Step 1. Download the app onto your PC.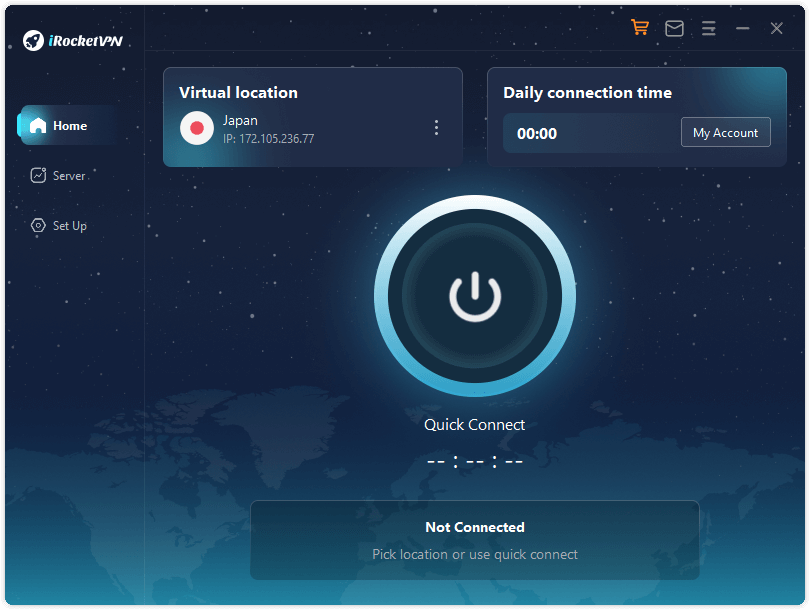 Step 2. Click the "Connect" button to use a recommended server.
Step 3. Easily switch between any of the available international or secure servers according to your needs.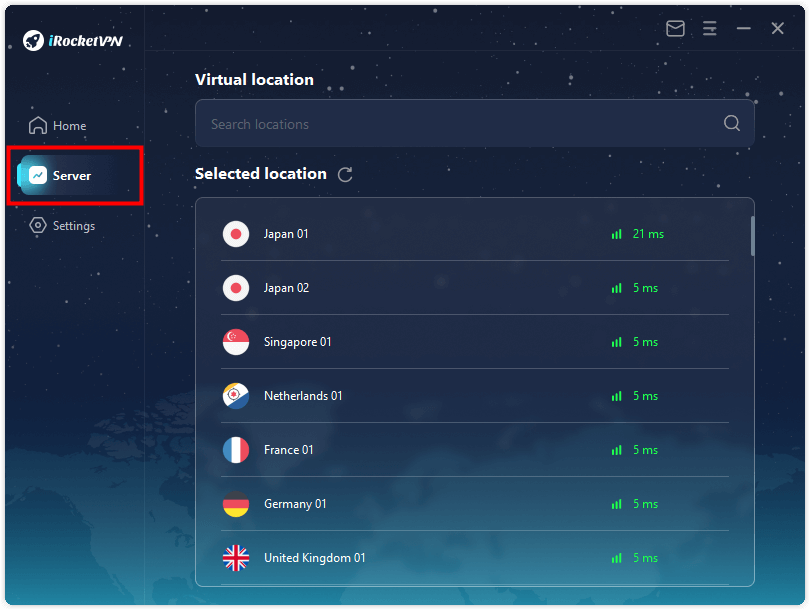 Step 4. Enjoy streaming videos or any content from around the world knowing that you are safe and secure!
Part 4. Risks of Free VPN extension
Using a free VPN extension can be convenient, but it is important to know the risks that come with it. Here are a few of the potential issues you should be aware of when using a free VPN extension.
The security of your data and information is one of the primary concerns of using a free VPN extension. Many free versions have outdated encryption standards or lack basic security protocols that could leave your data vulnerable to hackers. Additionally, some free services log and sell user data, leaving you open to privacy breaches.
Another major risk associated with free VPNs is their reliability - or lack thereof. You may find that they are slow or unreliable due to overcrowded servers, or they may not provide the features you need for streaming video or accessing certain websites. Furthermore, you might find that they frequently disconnect and require manual intervention in order to get them reconnected again.
Most free VPNs don't offer any kind of protection against malware or other malicious software. This means if your device gets infected while connected to one, you won't be alerted by the software and won't have any way to stop the spread of infection and protect yourself against further damage (unless you're using antivirus software).
Knowing the risks associated with using a free VPN extension before committing can help keep you safe from potential risks.
Conclusion
So, VPN extension is an invaluable security tool that can be used to protect your personal information from outside attackers. So if you want to take the extra steps necessary to safeguard your internet experience and make sure it's safe from prying eyes, downloading a free VPN is certainly your best bet.
If you don't find free vpn extensions as useful and are looking for the perfect solution for all your digital protection needs, check out iRocketVPN for Windows today! Enjoy the peace of mind that comes from knowing that all your sensitive information is being carefully secured!