As an avid Formula 1 fan, you know that living in the US can make watching your favorite sport difficult. Network TV generally provides limited coverage, and many times it clashes with other important sports events or is even delayed until too late for you to catch the race.
Fortunately, there's a way around this dilemma: using a VPN. With a secure virtual private network (VPN), now anyone from within the USA can enjoy full access to all of their favorite races during the season - no matter where they are located!
In this ultimate guide on how to watch Formula 1 in USA with vpn we'll cover everything you need to know so that you don't miss out on another premier event ever again. We'll also discuss some channels where you can watch F1 live stream online free. Read on for more details!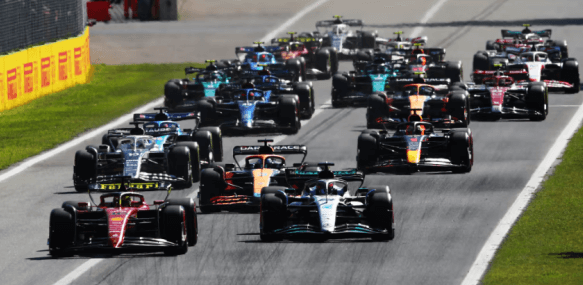 Part 1. Everything You Need to Know about Watching F1 in USA
Formula 1 (F1) is the premier class of single-seater auto racing sanctioned by the Fédération Internationale de l'Automobile (FIA). It is a motor sport contested by teams and drivers representing various countries around the world. The cars used in F1 are purpose-built, and they reach speeds of up to 200 mph. Races usually last around two hours, and they take place on closed circuits with a combination of straights, corners, and chicanes.
If you're a fan of F1 racing in the United States, there are several ways that you can watch races live. ESPN has exclusive broadcasting rights for most F1 events in the US, so a valid subscription is required to watch on television. Servus TV also provides a free streaming option for F1 races. Additionally, most races are available to watch on demand shortly after they have finished airing live.
In some cases, a VPN may be required to access certain races. Connecting to a VPN server in the country that is airing the race will allow you to watch it from anywhere in the world. A VPN can help you access F1 races that are only available in Europe if you live in the US.
Part 2. How to Watch F1 in USA Using a VPN
Watching Formula One in the United States is made easier with a VPN. The reason for this is that Formula One races cannot be viewed on US television channels due to broadcast rights. When you use a VPN, you can bypass those restrictions and access international streams that show F1 races.
You can also protect your data while watching the race with a VPN, which provides an additional layer of security to your connection. You can use it to encrypt your internet traffic and prevent your ISP from tracking you. By doing this, you can not only watch Formula One racing securely, but also privately without anyone else knowing.
You will also be able to unblock geo-restricted content from overseas services if you use a VPN. This means that if you live in the US but want to watch Formula One races on British or Italian television channels, for example, then all you need is a reliable VPN and you can access those streams from anywhere in the world.
iRocketVPN
For a reliable and secure VPN, we recommend iRocketVPN, ultimate online security solution . This VPN service offers Windows PC users a secure and private online experience. From anywhere in the world, you can connect to the internet easily and securely with this VPN. Through encryption, IRocketVPN ensures that your online activities remain safe from unauthorized access. Moreover, users praise its easy-to-navigate and user-friendly interface.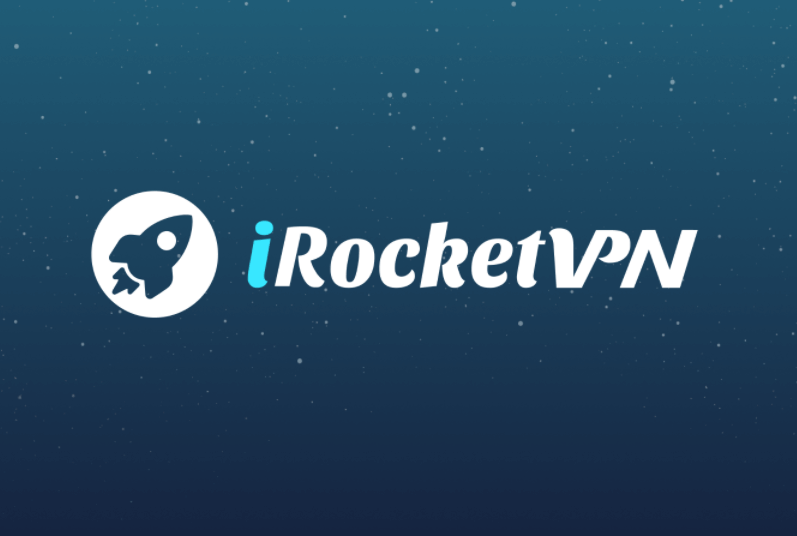 Key Features of iRocket
75.000.000+
Downloads
High-speed connection: With iRocketVPN you can enjoy a fast and stable connection that guarantees smooth streaming of F1 races.

Privacy protection: iRocketVPN ensures all your data is secure and encrypted, keeping your activities private at all times.

Unrestricted access: With iRocketVPN you can unblock content from any part of the world, giving you unrestricted access to your favorite F1 races regardless of where they are broadcast.

Multiple devices: One subscription allows you to connect up to five devices at once, making it easy to watch F1 races on multiple devices.
Steps to watch Formula 1 with iRocketVPN
Here is a step-by-step guide on how to watch Formula 1 in USA with iRocketVPN:
Sign up for an account with iRocketVPN.
Download and install the appropriate app version of the iRocketVPN for your device.
Log in to your account and select a server from an international location that offers F1 racing streams.
Once connected, access the F1 live stream online free of your choice and start watching races!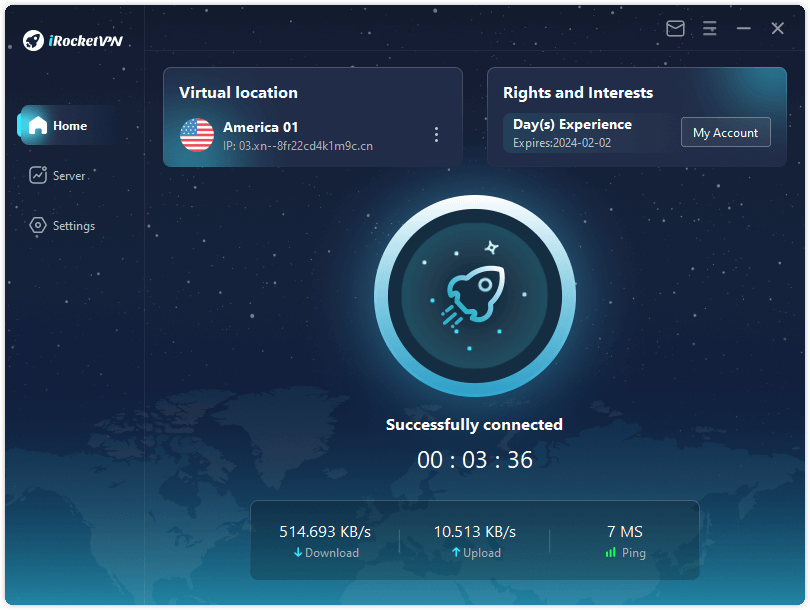 To ensure complete privacy and security, always use iRocketVPN when streaming Formula One in the US.
No more restrictions or geographic barriers - simply follow these steps and get ready to enjoy every race!
Part 3. Guide to Watch F1 Live Stream
The following are some methods for watching F1 live stream online free;
1

How to watch F1 on Servus TV

In case you are a Formula 1 fan, then you will be delighted to know that ServusTV is back for the exciting and suspenseful 2023 season. It is only to be noted that the streaming service is only available in Austria at the moment. You don't have to worry about it, though! There is no need to miss any of the action as we have a solution for you so you will not have to miss anything. It is possible for you to watch Formula 1 in USA by using a VPN service.

You need to select a VPN that is reliable [we recommend iRocketVPN for streaming sports since they guarantee zero buffering]

iRocketVPN can be downloaded and installed from the following link

You will be able to connect to an Austrian server

You can access your Servus TV account by logging in

Formula 1 2023 Races can be watched live online without any buffering or delays
2

How to Watch F1 in USA on ESPN

ESPN is an excellent place to start watching live races with your favorite drivers if you are looking to catch up on the latest races. As part of the deal, ESPN subscribers will be able to watch the ESPN broadcast via cable, satellite, and online streaming services, as well as the ESPN mobile app. You can watch Formula 1 races on your phone or tablet if you're looking for a convenient way to catch the action.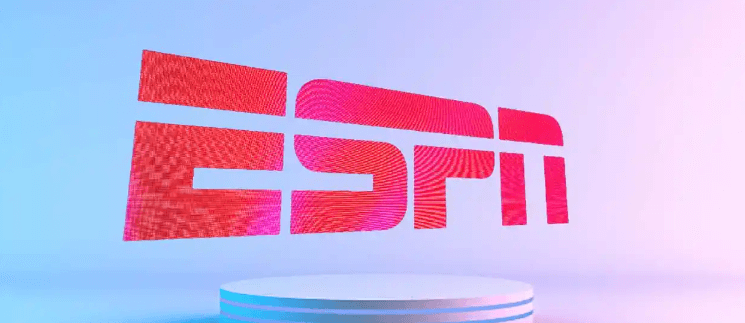 If you want to watch Formula 1 on ESPN+ on your mobile device, follow these steps:
Downloading the ESPN app on your smartphone is the first step.
To use ESPN+, you must subscribe to the service. It costs $99.99 per year or $9.99 per month to do this directly from the app.
To watch the Formula 1 2023 race, navigate to the "Live" section of ESPN+ after signing up.
You can begin streaming the race once you find the one you want to watch. You can watch the race in full-screen mode, pause, rewind, or fast-forward using the app.
Part 4. FAQs about watching F1 in the USA
1

What app can I watch Formula 1 in the USA?

ESPN+ offers a mobile app for watching Formula 1 races if you're interested in catching up on the action on the go.
2

Who televises F1 in the USA?

The U.S. Formula One broadcast will be exclusively carried by ESPN in 2023. Throughout the season, ESPN, ESPN2 or ABC will broadcast every session of every race without commercial interruption.
3

Is it legal to use a VPN in the US?

Yes, it is legal to use a VPN in the US so long as you use it for non-infringing purposes such as streaming content from other countries where there are no copyright restrictions or laws against using a VPN connection.
Conclusion
You can make the most of your Formula 1 viewing experience by using a reliable VPN service if you want to get the best out of it. The best option would be iRocketVPN, which has a large number of servers all over the world as well as providing fast internet connection speeds. Using a VPN service like iRocketVPN, you will be able to unlock exclusive content so that you can watch Formula 1 streams from other countries.