With the increase in our daily online activities, safeguarding our privacy and security has become a crucial task. A Virtual Private Network (VPN) is a helpful tool that not only provides security but can also modify your location. As the global VPN market is expected to exceed $75 billion by 2026, it is crucial to find a reliable VPN service that ensures the protection of your personal information and IP address. In this article, we will discuss some essential details to consider while using a VPN in your daily online routines.
Part 1. What Should I Know Before Using a VPN?
Prior to using a VPN, it's essential to do your research and pick a VPN service that suits your requirements. A VPN allows you to safeguard your online privacy and security by rerouting your internet traffic through a private server. However, not all VPNs are created equal. While selecting a VPN, look for key features such as speed, security, no-logging policy, customer support, and reasonable pricing. Once you've selected a VPN, you can learn to modify your location settings to ensure you remain private while using it.
Speed: Choose a VPN that doesn't significantly slow down your internet connection, especially if you plan on streaming video or using social media. Check the VPN's bandwidth and latency speeds to ensure they're acceptable for your needs.
Security: Look for a VPN that uses strong encryption protocols, such as OpenVPN or WireGuard, to protect your data. Additionally, consider the VPN's privacy policy, security features, and whether it has a kill switch to protect you in case the VPN connection drops.
No-logging policy: Ensure the VPN has a strict no-logging policy that doesn't collect any of your online activity, connection, or personal data. A trustworthy VPN will not keep any logs that can be traced back to your activities.
Customer support: Choose a VPN that provides good customer support, such as email, chat, or phone, so you can get help in case of issues. Additionally, ensure the VPN provides clear and easy-to-follow setup guides and FAQ sections.
Reasonable pricing: Choose a VPN that offers a fair price based on the features you need. Most reputable VPNs offer a free or trial version for you to test out their services before committing to a subscription. Ensure that the pricing plans are transparent, and there are no hidden fees or extra charges.
Part 2. How to Change VPN Location on Laptop/PC to a Specific Location?
To change your VPN location on your laptop or PC, you can use a reliable VPN service like iRocketVPN, which offers a variety of features to keep you secure and protected online.
Here are the steps to change your VPN location on iRocketVPN:
Step 1. Download and install iRocketVPN on your laptop or PC. Launch the app and log in with your credentials.
Step 2. Connect to the server location. Select a server location from the list of available options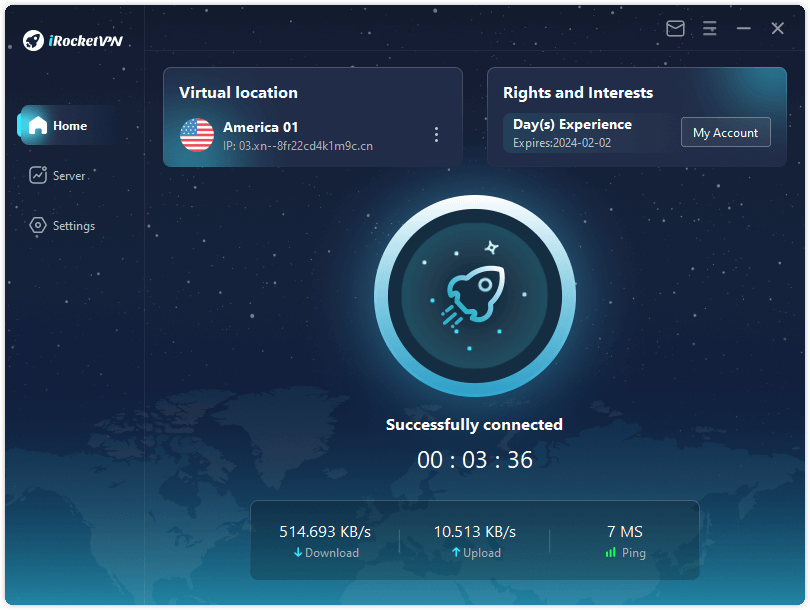 Key Features of iRocket
75.000.000+
Downloads
Fast and reliable connections with unlimited bandwidth

Military-grade encryption to protect your online activity and data

Strict no-logging policy to ensure your privacy

Wide range of server locations to choose from, including the US, UK, Canada, Australia, and more

Easy-to-use interface with a one-click connect feature

24/7 customer support for any issues or questions you may have
iRocketVPN also offers affordable pricing plans, including a free trial for new users to test out the service. With iRocketVPN, you can change your VPN location on your laptop or PC with ease and enjoy a secure, private online experience.
FAQs About Using VPN to Change Location
1

Can I change my location with a free VPN?

Yes, many free VPNs allow you to change your location. However, keep in mind that free VPNs often come with limitations, such as data usage caps, slower speeds, and limited server locations. Additionally, free VPNs may not provide the same level of security and privacy as paid VPNs, and some may even sell your data to third parties.
2

Is it legal to change my location using a VPN?

In most countries, using a VPN to change your location is legal. However, using a VPN to engage in illegal activities is not legal, and you should always use a VPN responsibly.
3

Can I use a VPN to access content that is not available in my country?

Yes, a VPN can be used to access content that is not available in your country. By connecting to a server in a different country, you can access content that is restricted in your own country. However, keep in mind that some content providers may block VPN traffic, so using a VPN to access content may not always be successful.
Conclusion
Changing your location using a VPN can help safeguard your privacy and access restricted content. However, it's essential to select a VPN that suits your requirements and to understand any possible terms of service violations you may encounter.
A reliable option is iRocketVPN, which has a strong track record of delivering excellent speeds, dependable server connections, and top-notch customer service. You can get started today by downloading the free version and enhancing your security in just two minutes!