Minecraft Unblocked at School: How to Access and Enjoy the Game Safely
In recent years, Minecraft has become a sensation among gamers of all ages. However, playing the game at school can be challenging due to network restrictions and firewalls. Thankfully, there are ways to bypass these limitations and access Minecraft unblocked at school. In this article, we will explore the methods to enjoy Minecraft during school hours.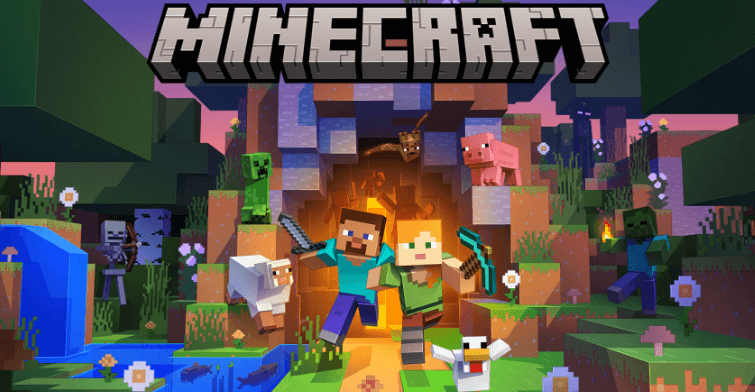 Download iRocketVPN to access Minecraft unblocked and enjoy unrestricted gameplay.
Part 1. Everything You Need to Know About Minecraft
Minecraft is a popular sandbox game that allows players to build and explore virtual worlds made up of blocks. It has gained immense popularity, especially in educational settings, as it promotes creativity, problem-solving, and collaboration skills among students.
However, many schools restrict access to gaming websites and services to maintain a focused learning environment. This can be frustrating for students who wish to enjoy Minecraft during their free time or incorporate it into educational activities.
Reasons Why Minecraft is Blocked
Despite its widespread acclaim, Minecraft may be blocked in certain environments due to the following reasons:
Network Restrictions: Network restrictions in educational and professional settings often block Minecraft's multiplayer and online features due to potential distractions and inappropriateness.
Bandwidth Limitations: Minecraft's multiplayer mode consumes substantial bandwidth, leading to blocking in resource-limited environments to prioritize essential tasks.
Security Concerns: Minecraft's online multiplayer raises security concerns, leading to blocking due to risks of interacting with players, sharing personal information, or accessing inappropriate/malicious user-generated content.
Part 2. Ultimate Guide to Access Minecraft Unblocked at School
1

Use VPN to Unblock Minecraft with ease

A VPN is a powerful tool that can help you access Minecraft unblocked at school. It creates a secure and encrypted connection between your device and a remote server, effectively masking your online activities from network administrators. By connecting to a VPN server, you can bypass network restrictions and access Minecraft freely.

When it comes to reliable VPN solutions, Access Blocked Content with iRocketVPN stands out as a top choice.

Features:
Bypass Network Restrictions: By connecting to iRocketVPN's servers, you can effectively evade the blocks and access Minecraft, enjoying uninterrupted gameplay.
High-Speed Connections: iRocketVPN provides high-speed connections, ensuring a smooth and lag-free gaming experience while playing Minecraft.
Easy-to-Use Interface: iRocketVPN offers a user-friendly interface, making it easy to connect to a VPN server and access Minecraft. The intuitive design ensures a seamless experience for both novice and experienced users.
Step-by-Step Guide to Accessing Minecraft Unblocked
Step 1. Download and install iRocketVPN on your computer. After completing the installation, click the "Quick Connect" button to connect to the recommended server effortlessly.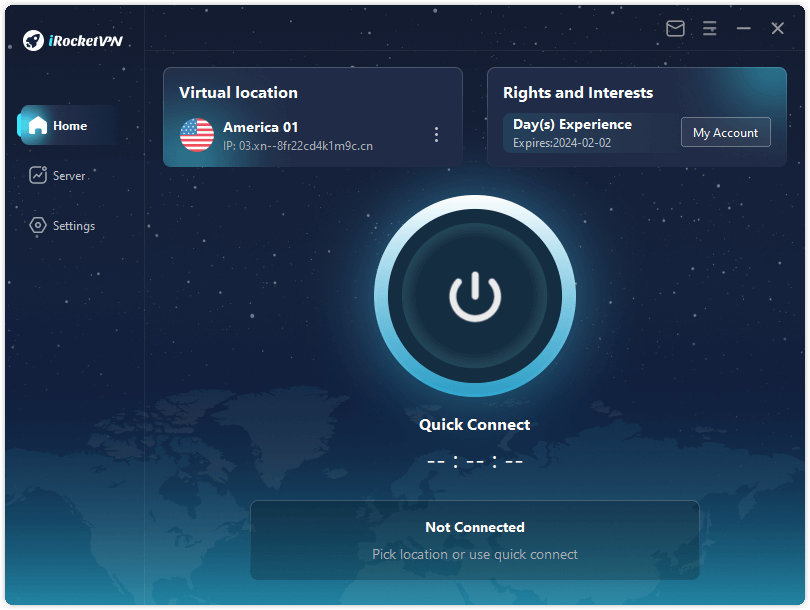 Note: To choose a specific server location, switch to the "Server" tab.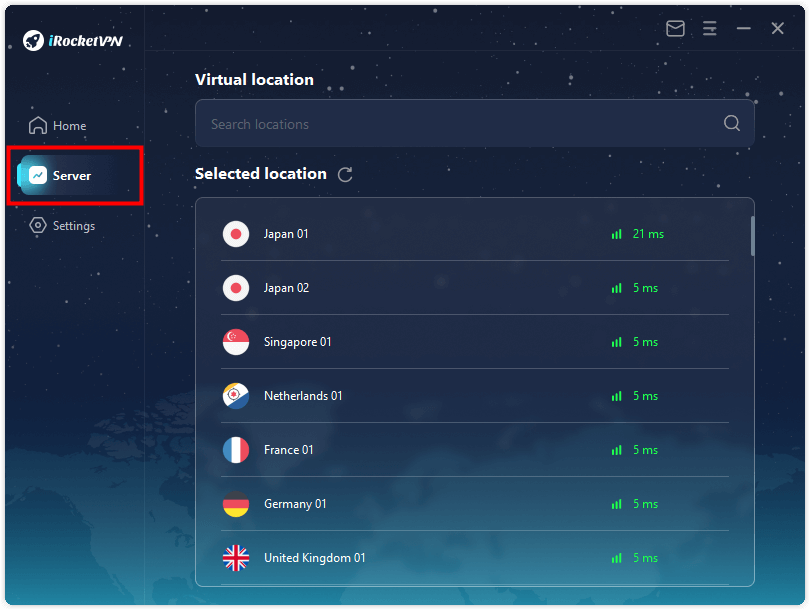 Step 2. Choose a server location where Minecraft is accessible, such as the United States.
To confirm that your IP address matches the chosen server location, verify your IP address online. Check you IP on iRocketVPN official page>>>

With the VPN connection active, open your Minecraft launcher. You should now be able to access Minecraft and play the game without restrictions.
2

Adjust your PC's Firewall Configuration

Firewalls can often hinder access to gaming websites and applications. However, there is a possibility to overcome these restrictions by adjusting your PC's firewall settings. Begin by attempting to access Minecraft's HTTP website instead of the HTTPS version. If this proves unsuccessful, you can permit Minecraft through your firewall settings using the following steps:

1. Click on the Start button and type in Control Panel

2. Choose Windows Defender Firewall

3. Click on the Allow an app or feature through Windows Defender Firewall button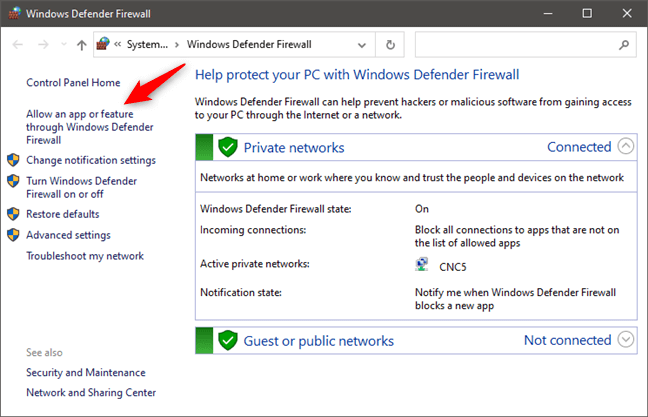 4. Search the list for anything Minecraft related and tick off the two boxes next to them
3

Explore Port Forwarding

Port forwarding is an additional technique that can be employed to unblock Minecraft. This method entails directing internet traffic to a specific port on your computer, enabling you to bypass network restrictions. To configure port forwarding, follow these steps:

1. Connect your computer to the router using an Ethernet cable. Then access your router console by entering your IP address in a web browser.

2. Once you've entered the router console, navigate to the Advanced Settings section.

3. Look for the Port Forwarding option and click on it.

4. In the designated area, enter "25565," which is the specific port used by Minecraft. Then save the changes to apply the port forwarding configuration.

Prior to reconnecting to Minecraft, it is recommended to reboot your router to ensure the changes take effect.
Tips: Ensure Safety and Security while Playing Minecraft Unblocked at School
While enjoying Minecraft unblocked at school, it is essential to prioritize online safety and security. Follow these guidelines to protect yourself and make the most of your Minecraft experience:
Importance of Online Safety Measures: Be aware of online safety practices, such as creating strong and unique passwords, avoiding sharing personal information, and being cautious while interacting with others in the game.
Protecting Personal Information: Minecraft is an online multiplayer game, and while playing, you may encounter other players. Ensure that you never share personal information, such as your real name, address, or contact details, with anyone you meet in the game.
Recognizing and Avoiding Potential Risks: Be cautious of phishing attempts, malicious links, or suspicious downloads related to Minecraft. Stick to official Minecraft websites or trusted sources for mods, add-ons, and updates to minimize the risk of malware or security breaches.
Conclusion
Playing Minecraft unblocked at school can be an exciting and enriching experience for students. By employing a VPN like Access Blocked Content with iRocketVPN, students can bypass network restrictions and access the game safely. It is essential to prioritize online safety and follow best practices to protect personal information while enjoying Minecraft at school. Remember, education and fun can go hand in hand with the right tools and precautions. So, gear up, connect with iRocketVPN, and embark on your Minecraft adventure today!