How to Change/Spoof Your Geolocation [Full Guide for All Platforms]
Geolocation is the process of determining the physical location of a device or user. While the accuracy of geolocation technology has improved over the years, there are instances where you may want to change or spoof your location. This could be for privacy reasons, to access region-restricted content, or even for location-based gaming.
In this article, we will explore different methods to change/spoof geolocation on various platforms, including iPhone/iPad, Android, and popular web browsers like Chrome and Firefox.
Change Geolocation on iPhone/iPad
When it comes to changing geolocation on an iPhone or iPad, one reliable tool you can use is LocSpoof. This GPS spoofing software allows you to set a customized location without the need for jailbreaking your device. With LocSpoof, you can even create custom routes, change walking speed, and import routes using GPX files. It is perfect for location-based gaming and service apps like Google Maps, Facebook, Snapchat, and Pokemon Go.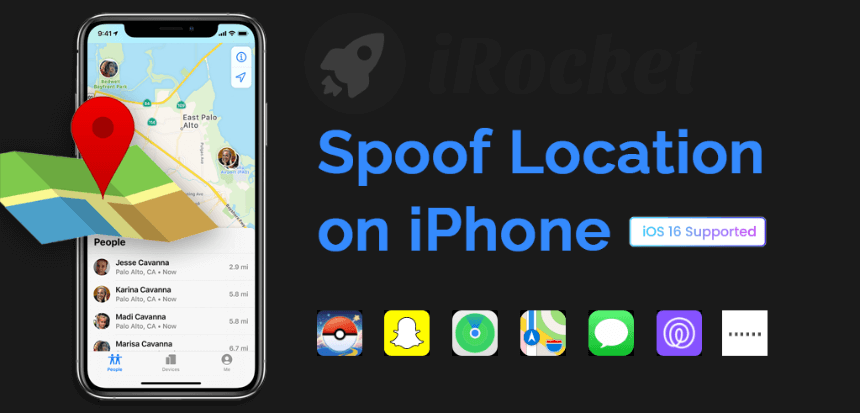 Change Location to AnyWhere in 1 Click!
To change geolocation on your iPhone or iPad using LocSpoof, follow these steps:
Connect your iPhone or iPad to your PC. Launch LocSpoof and click on the "Start" button.

In the upper right corner, select "Teleport Mode" or use the multi-spot mode to simulate a route. Type the destination in the search bar and simply click the "Move" button to teleport to the new virtual location.

Note: Launch the Maps app on your phone to verify your current location. Once confirmed, you can use this new location across all of your applications.
Change Geolocation on Android
Changing geolocation on Android devices is relatively simple, especially if you're using Android 6.0 or newer. One popular app that doesn't require rooting your phone is LocSpoof - Fake GPS App. This app allows you to easily fake your Android phone's location.
To change geolocation on your Android device using LocSpoof [Apk Version], follow these steps:
Download and install iRocket LocSpoof [APK Version] on your Android device.
Choose your desired location by typing or clicking on the map to select a location (e.g., from LA to New York).
Now, your Android device will consider you are in the new location, including all the apps on your device.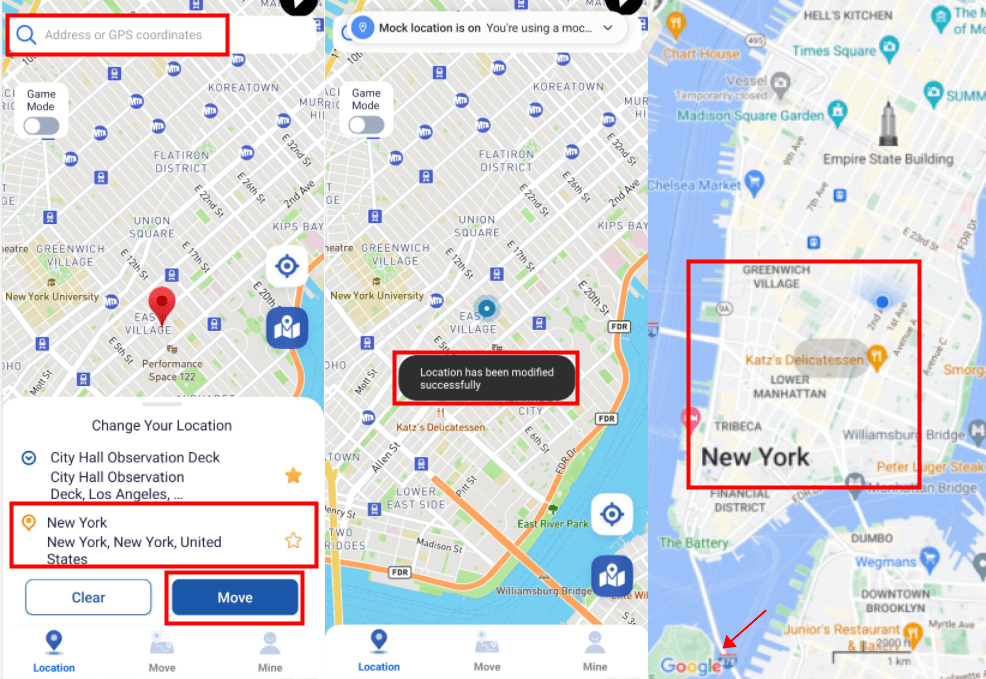 Change Geolocation in Chrome/Firefox
If you prefer changing geolocation directly in your web browser, you can make use of extensions like Change Geolocation (Location Guard) by ilGur. This extension is available for both Google Chrome and Mozilla Firefox and allows you to modify your location while browsing.
To change geolocation in Chrome or Firefox using the Change Geolocation extension, follow these steps:
Download and install the Change Geolocation (Location Guard) extension from the Chrome Store or Firefox Store.
Once installed, you'll find the new icon on the browser's toolbar. Green indicates that the extension is enabled, while gray means it's disabled.
Right-click on the icon and select "What is my Geolocation?" to view your current location details.
To change the location, right-click on the icon again and select "Options".
In the options window, you can manually set the latitude, longitude, altitude, speed, and accuracy.
Update the relevant fields with the desired location coordinates and click apply to teleport to the new location.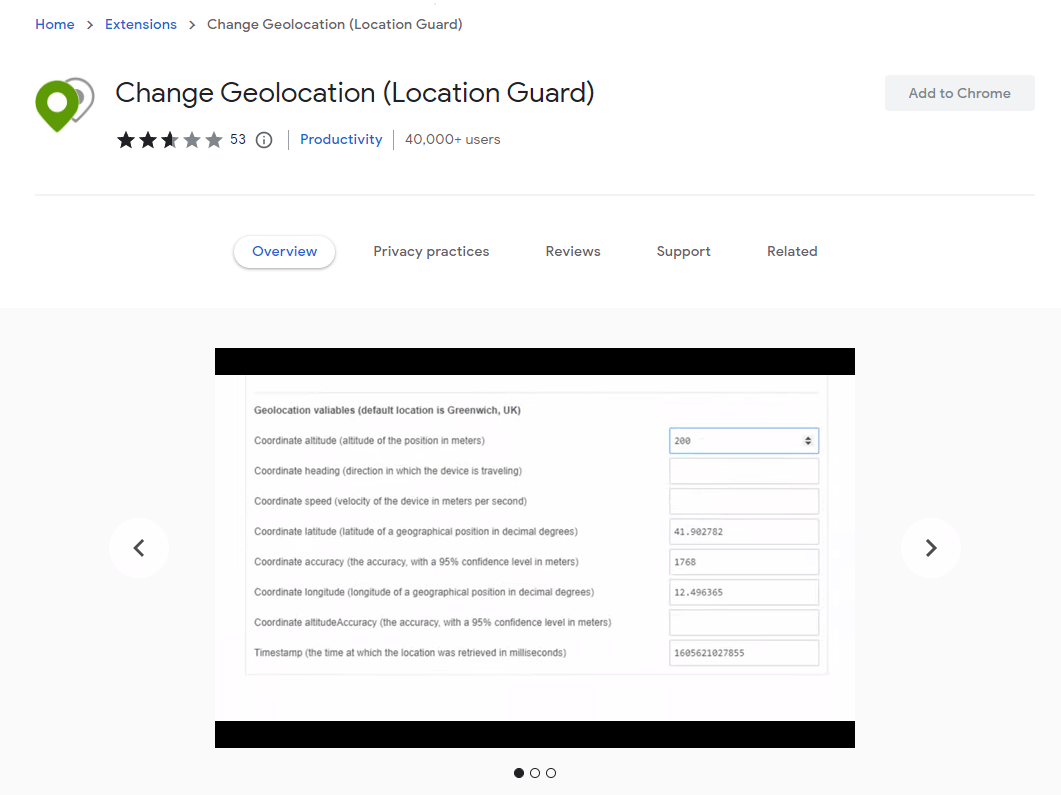 The Importance of Changing Your Geolocation
There are several reasons why you might want to change your geolocation. Here are a few common scenarios:
Accessing Region-Restricted Content: Some websites and online services are only available in specific regions. By changing your geolocation, you can bypass these restrictions and access content that would otherwise be inaccessible.

Protecting Personal Information: Changing your geolocation can help prevent websites and online services from collecting accurate data about your location. This can be particularly important if you value your privacy and want to limit the amount of personal information that is shared online.

Enhancing Online Security: By changing your geolocation, you can add an extra layer of security to your online activities. This can make it more difficult for hackers and cybercriminals to track your movements and target you with malicious activities.
Now that we understand the importance of changing your geolocation, let's explore some methods for doing so on different devices.
Summary
Changing geolocation can be useful for various reasons, including privacy protection and accessing region-restricted content. We have explored different methods to change geolocation on iPhone/iPad, Android, and popular web browsers like Chrome and Firefox. Tools like LocSpoof, and Change Geolocation (Location Guard) make it easy to spoof your location and enjoy location-based apps and services.
Remember, when changing your geolocation, it's important to select trusted tools and extensions to ensure your privacy and data protection. For web browsing, the Change Geolocation (Location Guard) extension offers a seamless experience. If you want to change location on mobile (iPhone/iPad or Android devices), LocSpoof is highly recommended.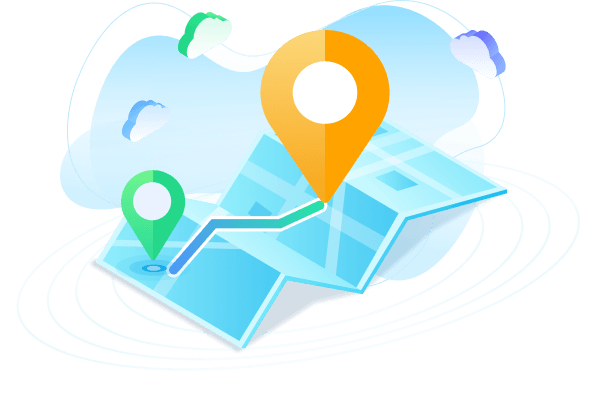 Highlights of LocSpoof:
Seamlessly teleport your GPS location to any place in the world.
Take complete control of your GPS location with 360-degree movement.
Compatible with all location-based apps, including Facebook, Pokémon GO, Snapchat, and Find My.
Compatible with both iOS and Android devices. (Including iPod/iPad)
Enjoy a free trial accessible to all users.
100861 Users Downloaded