6 Effective Fake GPS APK Apps for Android in 2023 [Can't Miss]
In today's digitally connected world, location-based applications and services have become an integral part of our lives. However, there are times when you may want to modify your device's GPS location for various reasons. Enter fake GPS APK – powerful tools that allow you to simulate your location. In this article, we will explore the concept of fake GPS APK and introduce some leading fake GPS APK that offers a seamless and reliable experience.
What is Fake GPS APK & Benefits of it
Fake GPS APK are applications that allow users to manipulate their GPS locations, essentially tricking their devices into reporting a different location. They work by spoofing the GPS signals and altering the coordinates reported to apps and services that rely on location data.
Fake GPS APK interact with your device's location services by overriding the information provided by the GPS sensor. They provide a simulated GPS location to apps, allowing you to virtually be in a different place without physically being there. This can be done by selecting a location on a map or inputting specific latitude and longitude coordinates.
Benefits of Using Fake GPS APK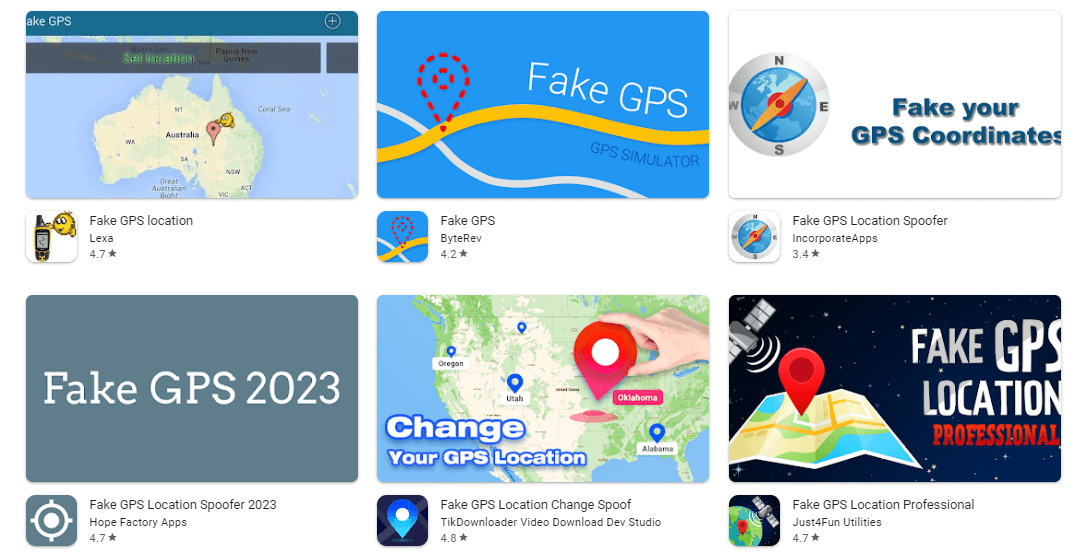 In this digital age, technology has provided us with innovative solutions to simplify our lives. One such solution is the use of Fake GPS APK, which offer numerous benefits and open up a world of possibilities. Now, we will explore the advantages of utilizing Fake GPS APK and how they can enhance your experience:
Accessing location-restricted content: With a fake GPS APK, you can bypass geo-restrictions and access content that may be limited to specific regions or countries.
Testing location-based apps: Developers often use fake GPS APK to simulate various locations for testing purposes, ensuring their apps work seamlessly across different regions.
Preserving privacy and anonymity: Fake GPS APK offer a way to protect your privacy by masking your actual location from apps and services that track your whereabouts.
Fake GPS APK offer a wide range of advantages, not only in the digital realm but also in our everyday lives:
Catch Pokémon At Home: Get your favorite Pokémon from the comfort of your home with ease!
Access Geo-Restricted Services: Help bypass area restrictions and access apps like life360 and more!
Discover Endless Fun& Matches on Social Apps: Effortlessly connect with new friends from around the world!
Top 6 Fake GPS APK
We present the top 6 Fake GPS APK that are guaranteed to elevate your location spoofing experience to new heights. From intuitive interfaces to advanced features, these APK offer a range of options to suit your specific needs and preferences. Let's dive in and discover the leading Fake GPS APK that can transform your device into a virtual passport to any location you desire.
1

iRocket LocSpoof - No Jailbreaking/Rooting

When it comes to reliable and feature-rich fake GPS APK, iRocket LocSpoof stands out from the crowd. There is an abundance of similar applications on Google Play, but only a fraction of them truly deliver when it comes to compatibility with Pokémon Go. However, iRocket LocSpoof stands out as an exceptional choice that seamlessly works with Pokémon GO and provides optimal functionality.

LocSpoof provides a comprehensive set of tools and features to manipulate your GPS location effortlessly. With its user-friendly interface and advanced functionality, LocSpoof caters to both casual users and professionals alike. Here are some notable features that make LocSpoof an excellent choice: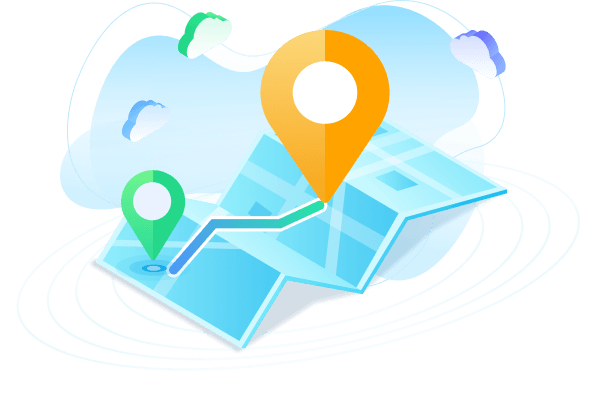 Highlights of LocSpoof:
Seamlessly teleport your GPS location to any place in the world.
Take complete control of your GPS location with 360-degree movement.
Compatible with all location-based apps, including Facebook, Pokémon GO, Snapchat, and Find My.
Compatible with both iOS and Android devices. (Including iPod/iPad)
Enjoy a free trial accessible to all users.
100861 Users Downloaded
Easily Fake GPS within 1 click:
Step 1. Download and install iRocket LocSpoof on your Android device.
Step 2. Choose your desired location and modify your GPS coordinates by simply clicking on the map to select a location (e.g., from LA to New York).
Step 3. You have successfully changed your location.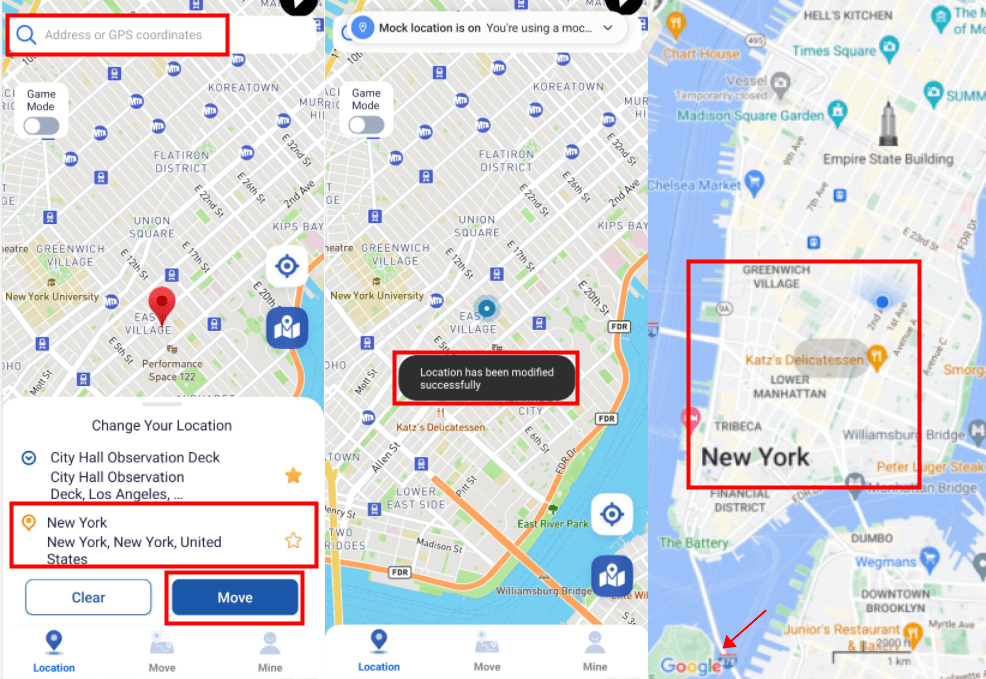 Note
You can check in Google Maps to verify if the location has been modified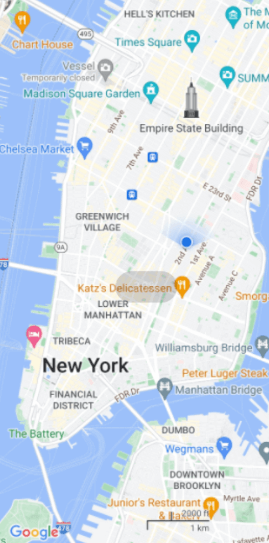 2

Fake GPS location (Lexa)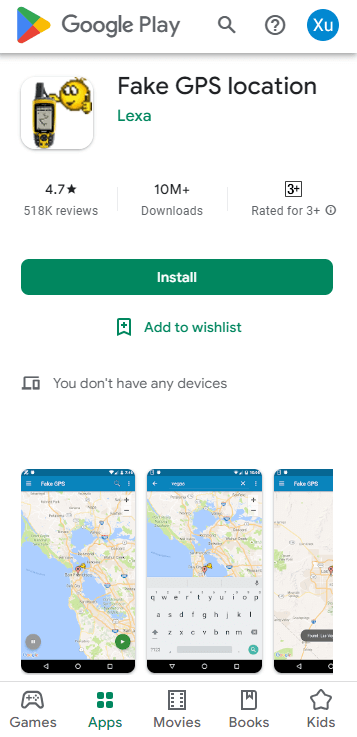 If you're looking for a popular Fake GPS APK, Fake GPS Location is a good choice. With its intuitive interface, precise location customization, realistic movement simulation, and wide app compatibility, it empowers you to explore the world from the comfort of your device. Enhance your location experience, access geo-restricted content, and test location-based apps with ease.
Features of Fake GPS location (Lexa):
Teleport your location to any place in the world.
Save locations to revisit in the future.
Supports searching coordinates for precise location picking.
It doesn't require root.
Pros
The app has more than one million downloads.
You can use features for free.
Cons
Pokémon Go does not work with it.
There is a fluctuation between real and fake locations in the app.
Movement can only be simulated by adjusting a single point's position.
The latest Android system does not support it. Such as the latest model of Samsung Galaxy& Android 13.
3

Fake GPS Location 2023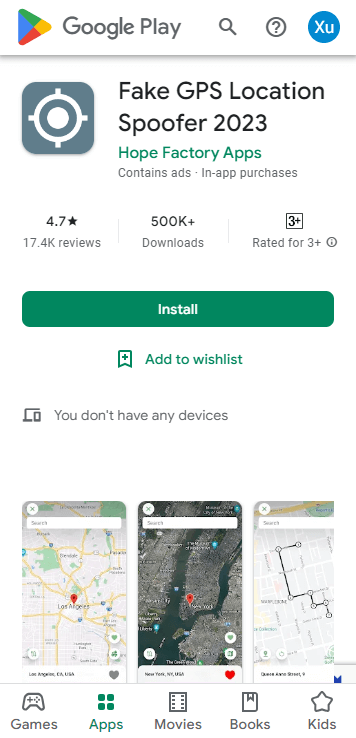 The third fake location changer APK is Fake GPS Location 2023, among the plethora of options available, Fake GPS Location 2023 has garnered attention for its advanced features and user-friendly interface. Next, we will introduce Fake GPS Location 2023, exploring its strengths, weaknesses, and overall performance.
Features of Fake GPS Location 2023:
Search for any location in the world using the search bar.
Add a location to a list of favorites for future use.
Switch between map view and satellite view.
Clean UI and fast startup.
Pros
The user interface is simple and clean.
The service is ad-free.
Customers appreciate good customer service.
Cons
The app sometimes disconnected.
It doesn't support all Android systems.
4

Fake GPS Location Spoofer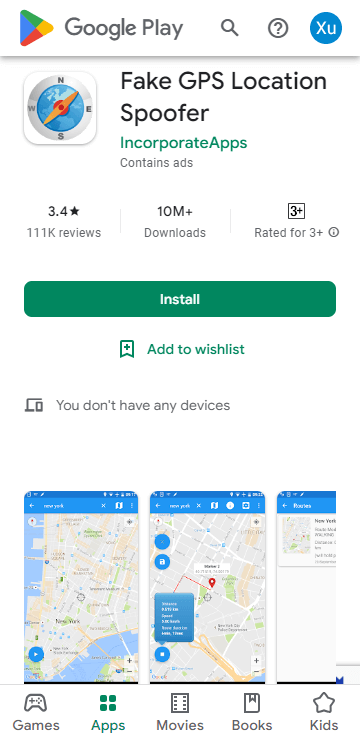 Next is Fake GPS Location Spoofer is a popular and widely used Fake GPS APK that offers users the ability to modify their GPS location effortlessly. With its range of features and intuitive interface, it has gained a loyal following among location spoofing enthusiasts.
Features of Fake GPS Location Spoofer
Choose any location on the map by entering specific coordinates or selecting a spot directly
Easily simulate walking, running, or driving to make your location spoofing more convincing.
Save your favorite locations and access them with ease.
Control your move smoothly and precisely with the intuitive interface
Pros
It boasts a user-friendly interface that enhances ease of use and navigation.
Wide application compatibility ensures seamless performance across diverse applications.
Users can enjoy realistic movement simulation capabilities.
Cons
It's not compatible with newer versions of Android.
Users have to deal with a lot of in-app ads.
5

Fake GPS Joystick and Route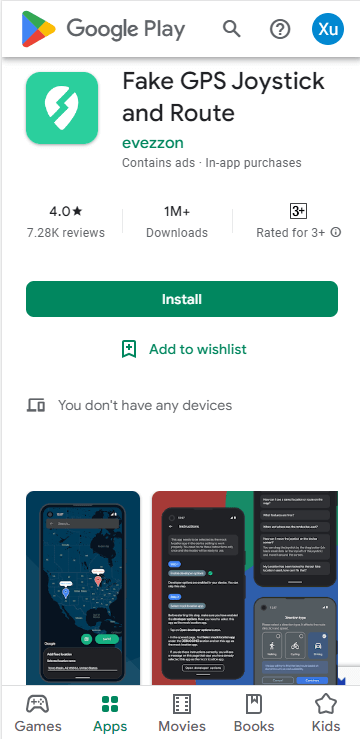 Here we come to Fake GPS Joystick and Route, Fake GPS Joystick and Route is a feature-packed Fake GPS APK that offers users a comprehensive set of tools to modify their GPS locations and simulate movement. With its wide range of features, this app has gained popularity among users looking to explore new locations virtually. In this part, we will examine the key features, pros, and cons of Fake GPS Joystick and Route, allowing you to make an informed decision about incorporating it into your location spoofing toolkit.
Features of Fake GPS Joystick and Route:
Users can easily control their location
It enables users to create custom routes by setting multiple waypoints on the map.
Save your frequently used locations as favorites within the app for quick and convenient access.
Fake GPS Joystick and Route offers the ability to adjust the speed of your virtual movement.
The app is compatible with a wide range of location-based apps and services
Pros
Intuitive and user-friendly interface.
Advanced joystick control for precise movement.
Custom routes for enhanced realism.
Speed control to match the desired movement.
Cons
It requires a premium version or in-app purchases.
The free version has limited functionality compared to the premium version.
Lack of anonymity, the anti-spoofing measures can detect the App.
6

Fake Location And Joystick by Ninja toolkit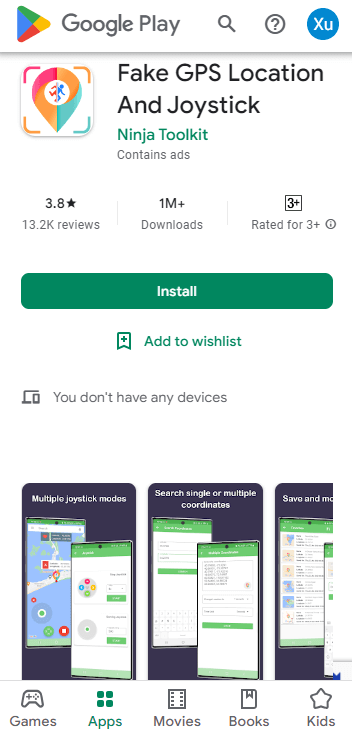 The last fake location changer APK is Fake Location And Joystick. With more than 500,000 downloads from the app store, this application replaces the user's actual GPS location with a fake one, which is then transmitted to all external third-party apps, websites, and services.
One of the key highlights of this app is its entertaining joystick feature, which has garnered significant praise from users and serves as its main selling point. Additionally, Fake Location And Joystick boasts an impressive rating of 4.5 stars, further solidifying its appeal and reliability.
Features of Fake Location And Joystick by Ninja toolkit:
The app provides several customization options for the joystick feature.
Good customer support when the user faces any issues.
The app gives the user the ability to set a fake location using latitude and longtitude.
Notifications can be hidden while using a fake GPS location on the app.
Pros
The GPS joystick allows you to fully control your movement with a keyboard.
You can see the history record and favourite list.
Can be used on unrooted devices as well.
The app keeps updating and supports new Android systems.
Cons
Users are often detectable when they use the application to falsify their location.
There are many ads in the process of use that cannot be skipped.
Games can't detect your location while you using the app. It can't work with Pokemon GO smoothly.
How to Enable Fake GPS APK
You need to first enable the mock location feature on an Android device, this step is essential:
Go to the "Settings" tab on your Android phone. Then tap on "System".
Select "Developer Options" from the list and then scroll down and find the "Allow mock locations" option.
Finally, toggle the switch to turn on mock locations.
FAQs About Fake GPS APK
1

Is it safe to use fake GPS apps?

Depends on the Apps you are using. Using a fake GPS location isn't always malicious, but even the most innocent uses can negatively impact a business. GPS spoofing can also pose real cybersecurity risks to businesses, as well as individuals.
2

How to make fake GPS undetected?

To make a fake GPS undetected, use reliable apps, select realistic locations, mimic natural movement, avoid suspicious behavior, stay up-to-date with app updates, and disable location-based apps. Use reliable apps like iRocket LocSpoof and avoid making frequent modifications.
3

Why fake GPS is not working on some apps?

The updated terms and conditions of these apps now include location service provisions that not only detect GPS signals but also verify the network environment.

1. If the reported location does not match the detected network environment, the apps will not function properly.

2. Fake GPS APK can't work with the latest versions of mobile phones and operating systems.
Conclusion
When it comes to unlocking location freedom and exploring new possibilities, fake GPS APK like iRocket LocSpoof can be your go-to solution. With its user-friendly interface, realistic movement simulation, and robust functionality,LocSpoof empowers you to take control of your GPS location effortlessly. Whether you're a casual user or a seasoned professional, LocSpoof provides the tools you need to enjoy a seamless and secure fake GPS experience.
So, why wait? Download LocSpoof today and embark on a journey of location exploration like never before!